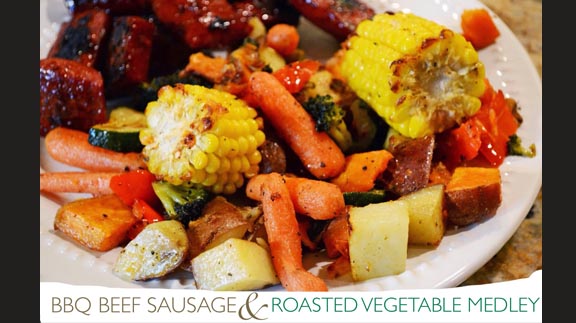 BBQ Beef Sausage & Roasted Vegetable Medley
Ingredients:
Beef Sausage:
1 package beef sausage
1/4 cup barbecue sauce
Roasted Vegetable Medley:
Whatever floats your veggie boat!
I followed my hunger and it led me to the fridge, recovering baby carrots, broccoli, red bell pepper, corn on the cob, one very sad zucchini, a couple of red potatoes, and their sweet potato cousin.
Garlic Powder
Thyme
Olive oil
Salt & pepper
Preheat oven at 450 degrees. Rinse all veggies thoroughly before preparing. Cut each one in medium pieces, not as small as diced…more like bite-sized. Go crazy, anything goes. The more, the merrier…the more, the prettier! Transfer to a large mixing bowl. Add seasonings and drizzle with olive oil. Toss vegetables to coat. Feel free to add more oil, if needed. It's not an exact science so pour until you're comfortable. Spread evenly in shallow baking dish and place in oven. Roast for 35-40 minutes, removing from oven to stir every 10 minutes. While you're waiting for these to roast, prepare the sausage. If grilling the sausage, grab the sauce and toss it on! If cooking in skillet, slice sausage into desired length (I usually cut 2″ pieces, it seems easier to eat and I like a little charred flavor). Brush light coat of your preferred barbecue sauce on both side and cook in skillet over medium heat until all sides are slightly browned (or slightly blackened, in my case). Remove from heat and top with one last brushing of sauce. Tadaaaaaa, a dinner that's delicious AND simply beautiful…in the great outdoors!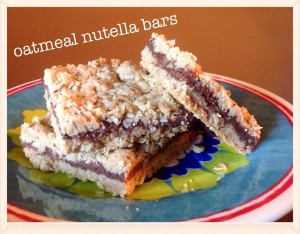 Oatmeal Nutella Bars
1 3/4 sticks salted butter, softened
1 1/2 cups all-purpose flour
1 1/2 cup quick oats
1 cup packed brown sugar
1 teaspoon baking powder
1/2 teaspoon salt
1 cup Nutella hazelnut spread
Add 1/2 cup chopped pecans if you're feeling "nutty"!
Preheat the oven to 350 degrees. Butter a 9-by-13-inch rectangular pan.
Mix together the butter, flour, oats, brown sugar, baking powder and salt.
Pour half the oat mixture into the prepared pan and press to make bottom crust.
Spread the Nutella over the oat mixture.
Sprinkle the other half of the oat mixture over the top and pat lightly.
Bake until light brown, 25-30 minutes (if you want a more chewy bar, check at 20 minutes). Let cool completely, and then cut into squares and serve. YUM!