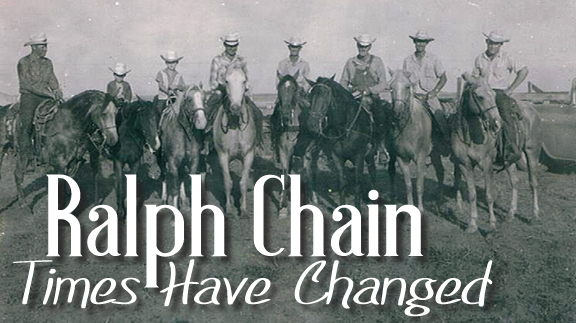 By Laci Jones
It all started with $50, a shotgun and 160 acres of sandy land. Oscar Chain was determined to settle on Oklahoma land in 1883.
The 18-year-old used the gun and money to purchase land in Cheyenne-Arapaho territory from a homesick Ohio homesteader who could not make a living on the land. Oscar made the Cherokee Strip Land Run prior, but he was unable to file for land because he was not old enough.
Almost 123 years later, Chain Ranch survived the worst years in agriculture—the '30s, '50s and '80s. Oscar's grandson, Ralph Chain said he even remembered Black Sunday. He and his sister were outside. When they looked across the road, all they saw was black. Ralph said he thought it was the apocalypse.
"I have been here almost as long as the ranch," Ralph said. "I'm almost 90 years old… How things have changed in my lifetime."
Oscar was born in 1875 in Ohio, but traveled with his parents on an emigrant train to Hutchison Kan., when he was 3 years old. Oscar had a fourth grade education, but that did not deter him from success in his agricultural practices.
"He could look at a group of cattle and figure out how much those steers weighed," Ralph explained. "He could figure that in his head like a calculator. I don't know where he got it from."
Oscar also had the ability to tell how much wheat was going to make to the acre by thrashing it in his hand.
In 1898, he married Laura Hickok who happened to be related to famous gunman, Wild Bill Hickok. Together, they had two children—a boy and a girl. Lenard was born in 1904, but the girl died when she was young.
To learn more about Ralph Chain, read How Times Have Changed in the April issue.