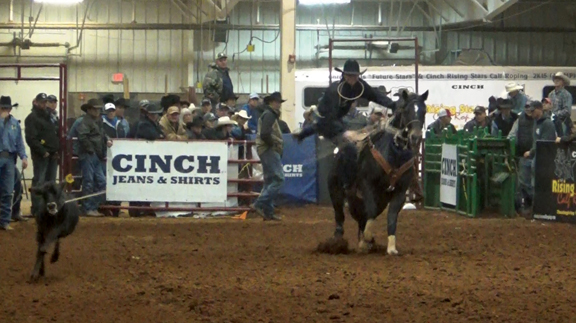 By Judy Wade
He has won six saddles, 30 buckles, spurs, headstalls, boots, saddle pads, a trophy chest, lots of money, and he is only 14 years old. Plus, he did not start rodeoing seriously until he was 10. Before that he only entered dummy ropings.
Sam Van Buskirk is an eighth grader at Ringling Junior High where he is plays baseball, basketball, and his favorite, football, and makes straight A's. The tall, personable young man has an easy smile and a polite demeanor.
His love of rodeo is not surprising since he is the third generation to be involved. His grandfather, Lyndal Van Buskirk, and father, Frank Van Buskirk, are well-known in the world of team roping. His mother, Susan was also a barrel racer. His mom and dad met while rodeoing in college.
"I grew up around it. I've done it ever since I was little," Sam explained.
A member of Mid-South Rodeo Cowboy Association (MRCA), Oklahoma Junior High School Rodeo Association (OKJHSRA), Little Britches, United States Team Roping Championships (USTRC) and Ultimate Calf Roping, this year he mainly heads and heels, and ropes tie-down calves, but has also been successful in ribbon roping, breakaway, goat tying and chute dogging.
When he was in sixth grade, Sam qualified for the OKJHSRA National Finals in Iowa because he was the state reserve champion in breakaway roping.
"It was a great experience," Sam said.
To learn more, pick up the April issue of OKFR!