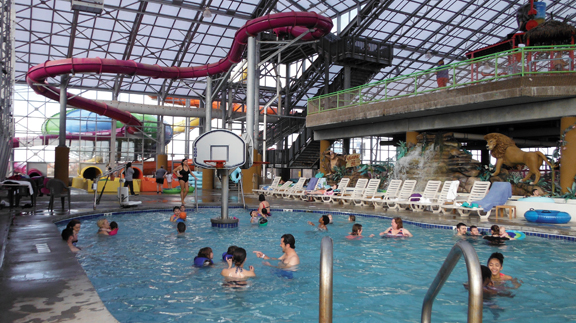 By Staci Mauney
As Oklahoma's only indoor water park, the Water Zoo Indoor Water Park in Clinton, Okla., attracts visitors of all ages from across Western Oklahoma as well as parts of Texas and travelers on Interstate 40. The 28,000 square feet facility opened in 2012 and serves up to 1,700 people on a busy weekend.
"Having an indoor swimming pool for Clinton was a longtime dream," said Walter Schumacher, Chief Executive Officer of The Schumacher Companies and owner of the Water Zoo.
In the glass aquatics enclosure, the atmosphere feels pleasantly tropical where the temperature remains in the mid-80s. Toddlers splash around in Cub's Cove, a shallow water pool six inches deep. On the mezzanine, older children prefer to climb on the Biggest Splash, a jungle gym-like structure with animal-shaped slides and water cannons. Adults, meanwhile, prefer to float leisurely down the Lazy and Crazy River as it winds through the facility and across the Wave Pool. In the shallow Activity Pool, kids play games on a three-sided basketball goal.
To learn more about the Water  Zoo Indoor Water Park, pick up the April issue of OKFR!