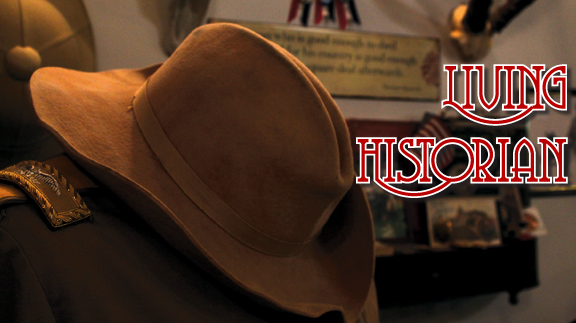 Living Historian
By Laci Jones
If you do not teach history correctly, you rewrite history. This is a firm belief of Doug Davis, owner of Shooting Star Saddlery in Hitchcock, Okla. Davis keeps history alive through collecting antiques, educating the public and reenactments.
Davis' passion for history stems from his heritage. He was born in Kansas City, Mo., in 1956. Davis' mother, who was a seamstress, died when he was 12. He remembers watching her make clothes for the family and neighbors. His father was a carpenter, plumber and mechanic. After he retired in his 50s, Davis' father opened a construction company. His great grandmother was a full-blood Cherokee Indian, and he started dancing Native American dances and went to pow wows until he was in his 20s.
"My granddad was my hero," Davis explained. "He cowboyed and ranched."
His grandfather ranched in Colorado at the turn of the century. Davis often visited his grandparents, who had 125 head of horned Herefords.
"The first thing I remember Grandpa doing with a rope was spinning a wedding ring in a wagon wheel and jumping through them out in the barn," he said.
Learn more about Doug Davis in the June issue of OKFR!