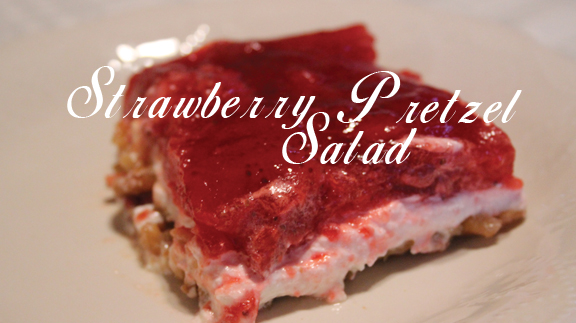 By Lacey Newlin
Strawberry Pretzel Salad
Cook Time: 20 Minutes
Servings: 15-20
Crust:
2 cups crushed pretzels
1/4 cup sugar
3/4 cup melted butter
Top:
8-ounces cream cheese, softened
1 cup sugar
1 1/2 cups whipped topping, thawed
2 cups pineapple juice
6-ounces strawberry jello
20 ounces frozen strawberries and juice (In the freezer section)
Directions:
Mix pretzels, melted butter and 1/4 cup of sugar. Press into 13x 9-inch pan and bake for 10 minutes at 350 degrees Fahrenheit. In a separate bowl, blend cream cheese and one cup sugar. Fold whipped topping into mixture and spread over crumb mixture and set aside. In saucepan, heat pineapple juice to boiling, add jello and stir till dissolved. Pour into a large bowl, mix in strawberries and refrigerate until partially congealed. Spread over cream cheese mixture and refrigerate until set.