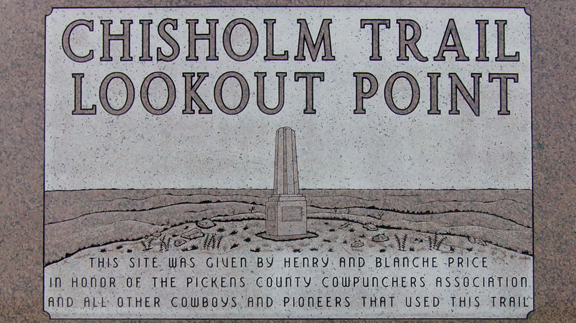 By Judy Wade
Northeast of the small community of Addington, Oklahoma is Monument Hill. Rising above it is a towering obelisk—a tribute to the Chisholm Trail and those who traveled it. Monument Hill is the highest point in Jefferson County, affording a view of up to 20 miles.
The idea for a monument was born among a group of cowboys, many of whom had worked on drives up the Chisholm Trail. They called themselves the Pickens County Cowpunchers Association. Pickens County was a part of the Chickasaw Nation of Indian Territory. It was later divided into nine south central Oklahoma counties.
After the cowboys "passed the hat" many times, Henry and Blanche Price gave a plot of land for the obelisk's home to honor those cowboys and others who used the trail. The Prices were well-known Jefferson County ranchers who had vast holdings in the area.
Work on the monument began prior to World War II but was halted because of the war and lack of funds. Nearly 50 years later, historical markers were placed on all four sides providing facts about the Chisholm Trail and Lookout Point, as the site is called. Two of the markers fell victim to vandals in the 1990's and were later replaced in 2007 by the Centennial Committee as part of Oklahoma's 100th birthday celebration.
Read the latest issue of OKFR to learn more!