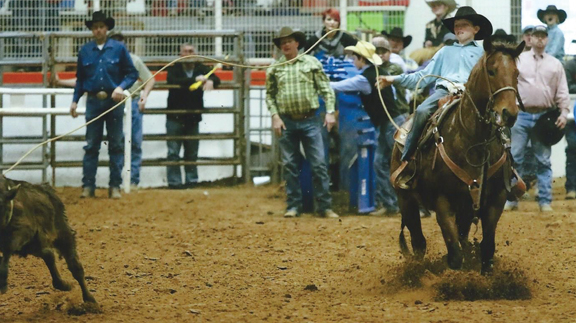 By Judy Wade
Get up before dawn, gather a pasture of cattle to ship, go to school, come home, check some wheat pasture calves, go to the practice pen and, if it's not a school night, get in some hog hunting—a scenario not unfamiliar to the Casebolt kids.
Raesh, age 13; Foreman, age 10; and Crosby, age 6 are busy but find time to rodeo on the weekends and make straight A's in school. The children of Heather and Todd Casebolt, they live on a ranch east of Ryan, Okla., and are being brought up in the true cowboy tradition. "Yes, ma'am," "no, sir," "thank you" and a handshake come naturally to them.
Tradition runs deep in this family. Raesh carries on the name of three generations of Barretts—Rash I, Rash II and Rash III, his grandfather. Spelled a bit differently to avoid confusion, the name is a part of the history of the town of Ryan, where Rash I put together 5,400 acres of ranchland, Rash II added to it and Rash III continues as head of the Barrett Ranch, well known in Jefferson County. That is where Heather grew up. She never rodeoed but was a true working cowgirl.
To read more, pick up the May issue of OKFR!