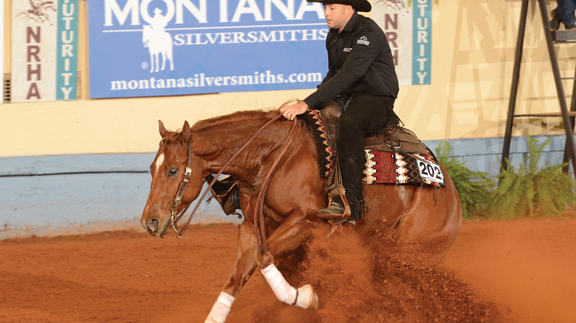 By Laci Jones
The small slow circles, large fast circles, exciting sliding stops and 360 degree spins in one spot show off the athletic ability of a reining horse. Reining is defined as "a judged event designed to show the athletic ability of a ranch type horse within the confines of a show arena" by the National Reining Horse Association which began in 1966.
"The association was originally created in Ohio," said Hayley Eberle, NRHA manager of marketing and communications. "It basically started by a group of cowboys taking their horses out onto a racetrack and literally seeing how far they could slide and who could go the farthest."
The members would set their patterns before they entered the arena at the horse shows. Today, the association has 14 copyrighted patterns, and the exhibitors know what pattern they are running before entering the arena.
"It's a testament to the association that we still have a lot of active members with a membership number as low as 24 or 48," Eberle explained. "It's really cool that the people who started it all are still around and involved in what we do. They bring a piece of history that not every other association has right now."
Learn more about the NRHA by reading the June issue of OKFR!