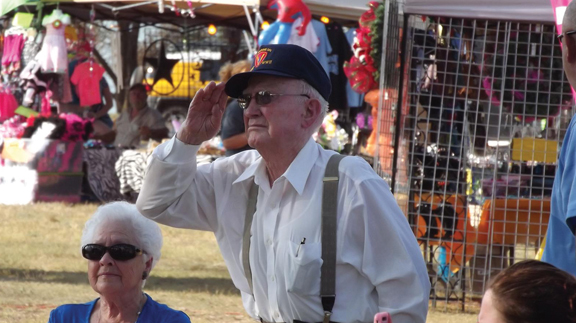 By Staci Mauney
Christmas in July at Foss State Park, just north of Foss, Okla., is one of the largest family-friendly outdoor events in western Oklahoma. Since 1990, the Foss Lake Association has sponsored Christmas in July. What started as a celebration to honor soldiers returning from Operation Desert Storm has turned into an annual event to honor all veterans. This year, the celebration will begin at noon on Friday, July 8, and last until after the fireworks display on Saturday night, July 9.
Visitors who arrive for Christmas in July are greeted by the U.S. flag and flags from each branch of the military displayed on either side of the entrance to the park. The main festivities take place just north of the marina in the center of the park. On Saturday morning, visitors crowd around the grassy area, waiting for the flag raising ceremony to begin. At precisely 9 a.m., Reveille begins to play as soldiers from Altus Air Force Base present the flags. The U.S. flag is raised while spectators stand at attention, watching the flag ascend with their hands placed over their hearts.
Read Christmas in July in the July issue of OKFR!