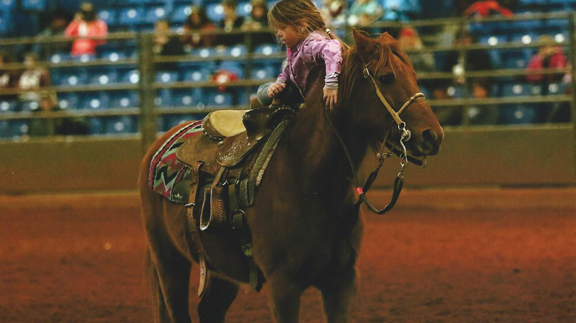 By Judy Wade
Chazli Massey has some big boots to fill. She is the daughter of Janae Ward-Massey, NFR qualifier in 2001 and 2002 and WPRA World Champion Barrel Racer in 2003; and Ty Massey, PRCA tie-down roper and Circuit Finals qualifier.
Her grandparents are Renee Youree Ward, 1985 NFR qualifier and James Ward, former bareback, saddle bronc and bull rider, and National Collegiate Champion. Her great-grandparents are Florence (Price) Youree, WPRA All Around World Champion and Dale Youree, former calf roper turned barrel horse trainer, who are both world-famous barrel racers and trainers, but that whole family is another story for another time.
Seven-year-old Chazli is working hard to fill those boots. She won her first buckle at a D & G barrel racing and her second as a 2015 MRCA Finals Qualifier, where she was in the top 15 in barrels, poles, and goat tying. She also won the highly coveted Sportsmanship Award in 2015. She has arm loads of other prizes—reins, saddle pads, buckets, halters and money.
Learn more in the latest issue of OKFR!