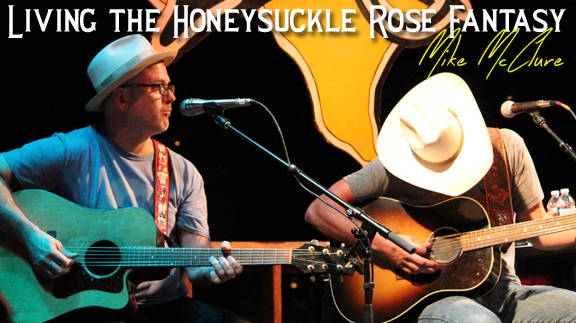 Living the Honeysuckle Rose Fantasy
By Laci Jones
The music production studio looked like a scene from a rock movie in the 1960s. The lighting in the room was dim, and the studio was an organized chaos with various antique items and music equipment offset with a lounging area.
Whether the visitor is an artist or just a listener, they get the feeling that some form of musical magic is going to happen. Mike McClure affectionately referred to the room as "The Boohatch."
"The room is older than rock 'n' roll," McClure added. "It was built in 1938. It's underground, so it's quiet."
The Boohatch, located in the basement of McClure's house, has seen artists including "Turnpike Troubadours," "The Damn Quails," "The Suede Panther" and Susan Herndon. McClure also worked with Cale Lester, son of Scott Lester of "The Great Divide" in this room.
The singer, songwriter and producer had the same laid back vibe as The Boohatch, wearing his signature t-shirt and shorts. McClure said he has a process when artists come in. Before recording, the former psychology major enjoys hanging out with his artists and observing how the group works together.
McClure, who turned 45 in July, was born in Tecumseh, Okla. He and his family moved two years later to Shawnee, Okla., where his father bought ten acres of land. The family did not farm for a living, but they had cows, chickens and a horse on the property.
Learn more about Mike McClue in the September issue of OKFR!