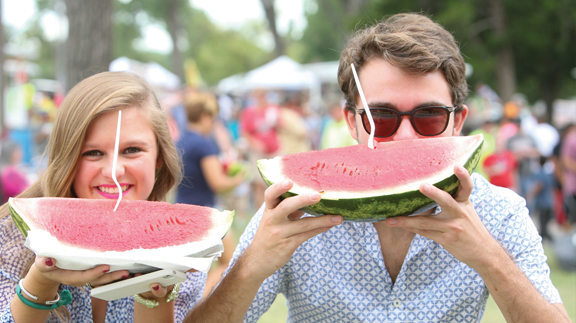 By Laci Jones
Seed spitting contest. Tiny tots pageant. Live, local entertainment. Sweet, juicy watermelon. What more can you ask for in a festival?
Rush Springs is famous for growing watermelons, said Joe Dorman, chairman of the Watermelon Festival. The town has the perfect conditions to grow watermelons—sandy loam soil, arid climate and natural springs.
"It has just made it a wonderful location for the watermelons to grow and the farmers to have the success with that specific crop," he added.
The Watermelon Festival in Rush Springs, Okla., began in the 1940s before World War II, Dorman explained. However, it became a consecutive festival in the later mid-1940s. The festival has been sponsored by the Lion's Club every year since its inception.
"The festival has sprung up from that as a way to promote that industry and help the farmers sell more of the watermelons," he said.
Learn more in the latest issue of OKFR!