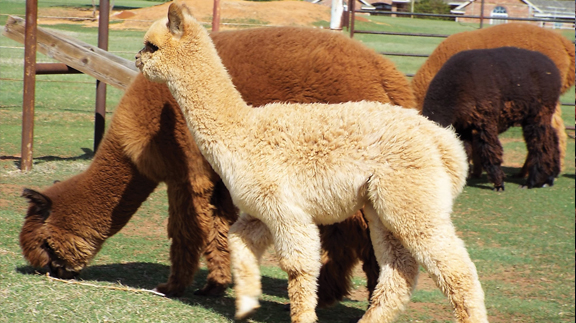 By Laci Jones
What began as a love for a Great Pyrenees dog named Charlie turned into Kathy Fleming and her husband opening Mustang Creek Alpacas. Ten years ago, the couple embarked on vacation in Oregon where they saw an advertisement for an alpaca farm and products.
"That was our first experience seeing an alpaca," Fleming explained. "We never saw one before. I fell in love with their guard dog."
Fleming remembered asking her husband if they got an alpaca, could they adopt a Great Pyrenees dog. At the time, the Flemings lived in the city limits of Oklahoma City which was not ideal. It took the couple five years of planning to own their own herd. While they do not have a Great Pyrenees dog, they do own 40 alpacas.
Often confused with llamas, alpacas are a smaller animal. Female alpacas can weigh an average of 110 to 150 pounds, and the males are heavier. The alpaca owner said alpacas stand eye to eye with most adults when mature. Fleming said there are two breeds of alpacas—huacaya and suri. The huacaya alpacas are fuzzier while the surrey alpacas have a dreadlock-type fleece.
For more information, read the September issue of OKFR!