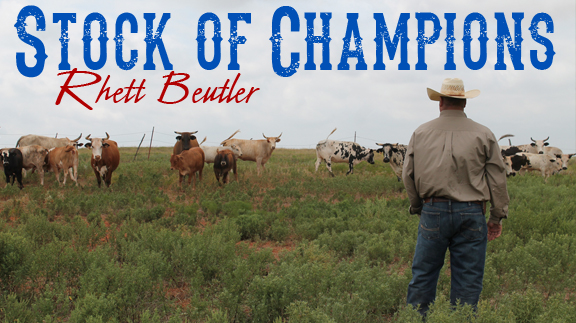 Stock of Champions
By Laci Jones
A cowboy with the number 186 pinned to the back of his brown leather vest climbs onto a bronc at the Elk City, Okla., Rodeo of Champions. He gives a quick nod and the chutes open. The fans cheer as the rider gets bucked off after only a few seconds.
It is the third night of rodeo performances, and they do not notice the man behind the chutes moving on to the next rider. Rhett Beutler, wearing a pink starched shirt for Tough Enough to Wear Pink night, blends in with the rest of the crew. With all of the commotion behind the chutes, the co-owner of Beutler & Son Rodeo Company is all smiles.
Beutler is used to the commotion as his childhood was filled with going to rodeos including his hometown rodeo. As a young child, he was given the job of being the flank man, which he still holds today. A flank man needs to know the animals, specifically their personalities and what it takes to get the best performance out of them.
"The first time I 'flanked' a bucking horse was at a high school rodeo in Elk City," he explained. "I was probably 10 or 11 years old."
The ground was wet from three inches of rain. His father, Bennie, told Beutler to pull and hang on to the flank strap. Bennie failed to tell Beutler to let go of the strap, resulting in a front flip out of the bucking chute into the mud.
"Everybody got a good kick out of it," Beutler said with a chuckle. "My dad just laughed and thought it was great."
He still enjoyed being a part of the rodeo scene even though he was embarrassed. Beutler said Bennie never pushed him, his twin sister, Amber or younger sister, Katie to get involved in the family business. Beutler went on to Southwestern Oklahoma State University in Weatherford, Okla.
"Once every couple of weeks, my dad would bring a truckload of stock over to Weatherford," Beutler added. "We would buck them there at the arena. It was just kind of a close knit deal. On the weekends, I would always load up and go to a rodeo somewhere."
Learn more about the October issue of OKFR!