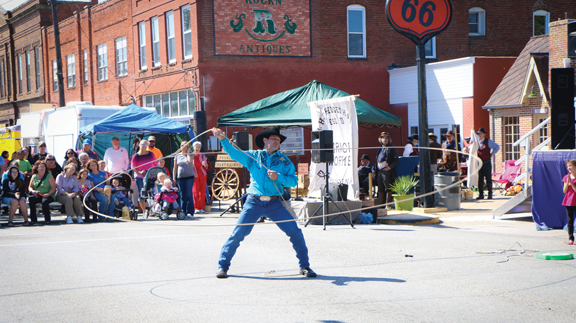 By Laci Jones
Celebrating its 20th year, the Wild West Festival in Old Town McAlester is a family-friendly festival that encompasses the country and western lifestyle in a two-day period.
"McAlester, Okla., is unique in the nation in that we have two downtown areas," said Brenda Baxter, chairman of the Wild West Festival. The old town is located on Business 69 on North Main Street and Stonewall Street.
The old town, where the festival is held, was named after entrepreneur and politician, J.J. McAlester. McAlester moved to Indian Territory, specifically the Choctaw Nation, when he was 24.
McAlester later married a Chickasaw Indian woman, giving him citizenship in in both Chickasaw and Choctaw nations. His rights helped McAlester to be a founder of the Oklahoma coal industry, and he established the J.J. McAlester Mercantile Company. He also later became Lt. Governor of Oklahoma.
When the railroads were built later, downtown McAlester moved a mile-and-a-half south. The mercantile store was mentioned in the 1968 novel "True Grit" by Charles Portis. The novel was turned into a film a year later and recreated in 2010.
Learn more in the September issue of OKFR!
Links: http://www.TheOkahomaKid.com