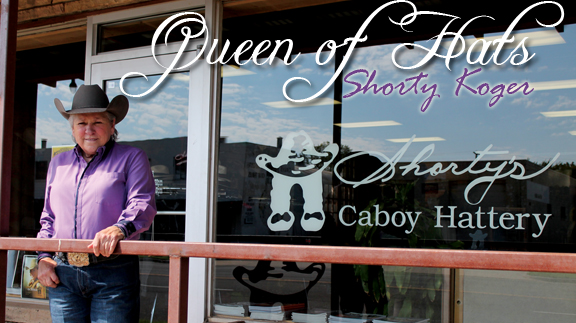 By Laci Jones
For cowboys and cowgirls, no outfit is complete without a cowboy hat. Lavonna "Shorty" Koger, owner of Shorty's Caboy Hattery in the historic Stockyard City, has 27 years of experience in setting western cowboy hats trends. Even at a young age, Koger knew she was destined to be a cowgirl.
"Where I was raised, it just so happened that Randolph Scott and Ben Johnson lived in that area," she explained. "I would see them on the streets all dressed up with their 'britches' stuffed into their boots, wearing pretty shirts and hats. I just always wanted to grow up and be like them."
Koger, who was born in Oklahoma City, got her nickname from being the youngest of four children. She said she was the "runt" of the family, giving her the nickname "Shorty."
Until her ninth grade year, she went to school with 25 other students in the community of Gray Horse near Fairfax, Okla. Her father worked for Continental Oil Company, and the family moved to Moore, Okla., in 1955.
"It was like moving to New York City," she said with a laugh.
The Koger family lived out on a farm where they raised cattle and grew wheat, but she wanted a horse. Her dad gave her a calf and traded him for a small colt. Koger trained the colt and started competing in all-girl rodeos in the late '50s.
Out of her three siblings, Koger was the only sibling to compete in rodeos. The Koger family traveled to local rodeos in a truck, and the horse jumped in the back end of the truck with the cattle racks. Not only did Koger run barrels at these rodeos, but she also rode bulls for a couple of years.
"When I look back on it, I think that I must have been crazy," Koger added. "It was fun at the time. When you're young, you have no fear."
After attending a business college in Oklahoma City, Koger went to work at a paper manufacturing company in the '60s, located in present day Bricktown. In 1968, Koger partnered on a small western store in Moore, Okla. They had a good business, but the most challenging part was shaping the hats.
To learn more about Shorty Koger, pick up the November issue of OKFR!