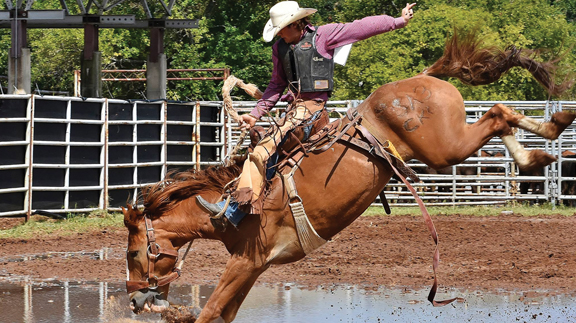 By Ddee Haynes
It rained at the fairgrounds in Shawnee, Okla., on Sept. 11-12. All three rodeo arenas were standing in mud. Not just a little mud, but a lot of mud. However, the mud did not keep the 250 plus dedicated cowgirls and cowboys at their trailers. Nope, these rodeo kids ranging from sixth grade to twelfth grade, hailing from all parts of the state of Oklahoma, some from Texas and even Kansas, came to rodeo. And rodeo is what they did regardless of arena and/or weather conditions.
That weekend kicked off the 2016-2017 season for the Oklahoma Junior High School Rodeo Association and the second rodeo of the season for the Oklahoma High School. Both the OKHSRA and OKJHSRA are influenced by strong family involvement, dedicated to the development of sportsmanship, horsemanship and the building of character and development of leaders through the sport of rodeo. Both Oklahoma associations are charter members of the National High School Rodeo Association, Senior and Junior Divisions.
Read the November issue to learn more!