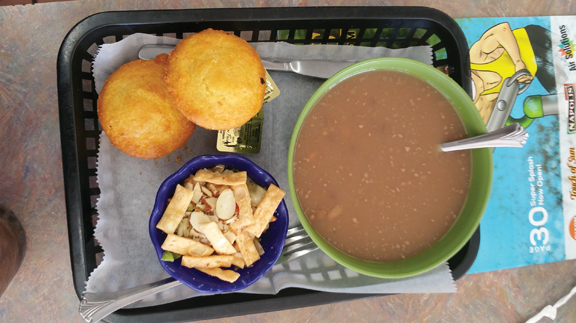 By Joanne Jones
This summer I took several day trips with a friend of mine to visit quilting shops around the state of Oklahoma. On one of our trips, we went to a shop in the great town of Sand Springs, Okla. We asked for a local favorite and were directed to a sandwich shop called Sweetie Pie's at 121 2nd Street.
Sweetie Pie's turned out to be a small place with more seating outside than there was inside. We ate inside because that day the temperature was pushing 100. We walked into a crowded interior with seating for less than 25 people. We had to wait for our table to be cleaned so we could sit down because it was a busy afternoon. The place had a hometown diner vibe with glass front display cases of fresh breads, cinnamon rolls, muffins, cakes, pies and cookies.
The diner was primarily a sandwich shop but served a variety of extras including fresh ground coffee, homemade breakfast items and bread. Everything is made from scratch everyday including grinding the coffee.
All their sandwiches are served on fresh homemade bread with chips and a pickle. If you did not want chips, there was an option to have a side of potato, pasta, macaroni or pea salad. They had a fruit cup and Tabouli as well as side choices. Then there was a soup of the day which varies between nine different varieties. However, tortilla soup is offered every Friday.
Learn more about Sweetie Pie's in the October issue of OKFR!