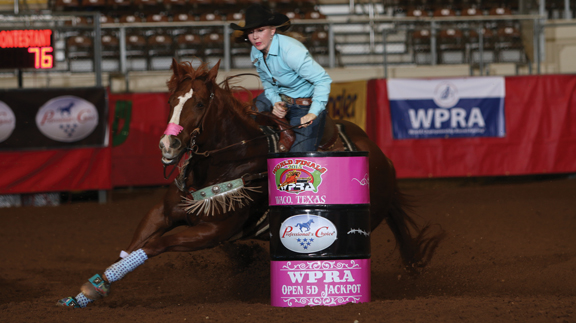 By Ddee Haynes
The first thing you notice when she walks into the room is the wild blonde hair, sparkling eyes and a 100-watt smile. What the outside doesn't tell you is she is a pharmacist, a seasoned trick rider, a movie star, a cowgirl deluxe and most importantly a child of God. All wrapped up into one package, this little blond dynamo named Dusta Lee Kimzey has already accomplished more in her short 25 years than many will accomplish in a life time.
Kimzey made her first acting appearance as one of the leading stunt trick riders in the movies Cowgirls N Angels and later in the second movie Cowgirls N Angels 2. The day Kimzey received word she had secured her spot as a stunt rider she immediately called her mom ecstatically exclaiming, "This is the coolest job ever! They want to pay me for falling off my horse!"
The money she earned from the two movies helped her achieve her most recent accomplishment, graduating from Southwestern Oklahoma State University, located in Weatherford, Okla.
Learn more about the Kimzey's in the October issue of OKFR!