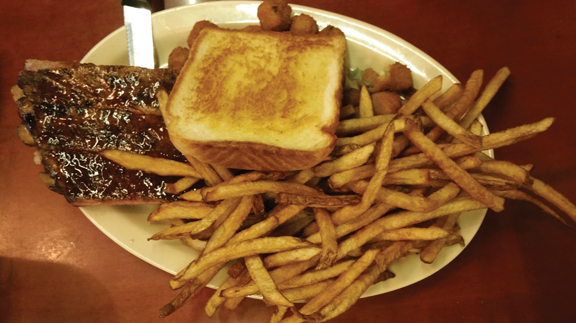 By Joanne Jones
Not too long ago I made a run over to Seminole, Okla., and chose to dine at Bosco Joe's steak house at 2218 N. Milt Phillips Ave. The sign out front gave no clue as to what waited inside for me other than it promised to be "Lip Lickin' Good." I entered into a cowboy-themed atmosphere.
The walls were filled with wainscoting made out of bead board and cowboy memorabilia. The numerous cowboy pictures were all by the same artist, Mary Foster. The owner liked Foster's work so much he bought her entire cowboy line.
A large painting of a chuck wagon and dogs hung prominently by the bar. I later found out the dogs in the painting were Daisy May and Bosco, the dogs of the owner and founder of Bosco Joe's. Bosco Joe's restaurant was named in honor of a good, well-loved dog. Bosco Joe was the dog on the right in the picture and Daisy May was his mother. Sadly, Daisy May and Bosco Joe both passed away this last year a few months apart.
My friend and I had difficulty deciding what we wanted from the many smoked meats on the menu. I finally decided to try the chicken fried steak with mashed potatoes, gravy, pinto beans and corn bread. My friend ordered the St. Louis ribs with fries, Texas toast and fried okra. We both had sweet tea with our meals. We found out they serve fried green tomatoes, so we decided to have them as an appetizer.
For more information, read the latest issue of OKFR!