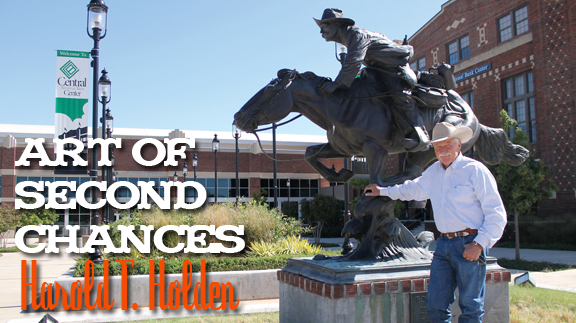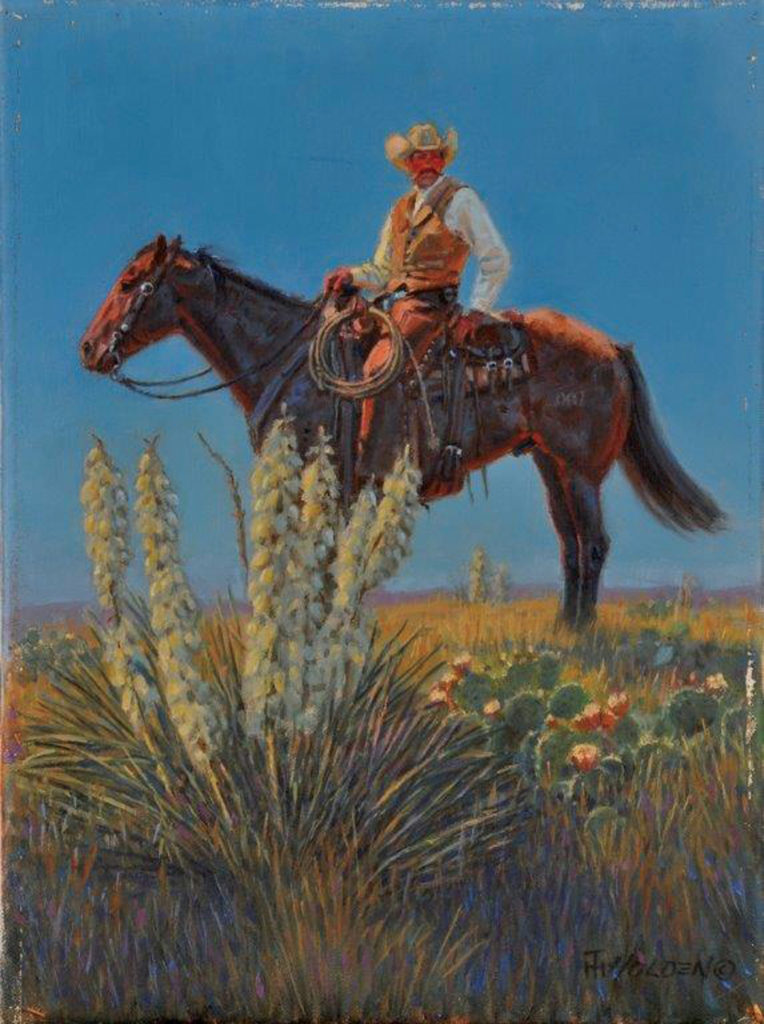 By Laci Jones
An artist is critical of his own work, or so they say. Western artist Harold Holden walked around his studio located in Enid, Okla., where he occasionally analyzed one of his completed pieces. Holden's creative process is a roller coaster, according to Holden's wife, Edna Mae.
"He will come in at night and say, 'I like how this is going,'" Edna Mae said. "Then, he will come in the next night and say, 'I just hate this.'"
The western artist comes from a long line of inventors and engineers. His great-grandfather, George Failing, invented the bottle capping machine in 1915 that is still used today. His grandfather, George E. Failing, was an oil pioneer, inventing the first portable drilling rig as well as numerous drilling bits.
Tragically, Holden's father was killed when he was six years old, leaving his mother Betty a widow at 31 years old. Harold's grandparents helped raise him and his siblings, Tim and Katy. Holden was raised north of town where he and his brother played "cowboys and Indians."
The 76-year-old artist was raised around horses, a love he continued throughout his life. He drew cowboys and Indians when he was young, and he had "a knack" for drawing. Other former students of Enid Public Schools have textbooks where the young artist drew buffalos and horses in the margins.
Holden was a natural athlete, playing football and running track in high school. He attended summer school at Culver Military Academy in Culver, Ind.
"[Attending Culver Military Academy] was kind of a tradition," Holden explained. "My brother, Tim, went and all three of the Failing brothers went."
Like Tim, Holden won the lightweight boxing championship while at the academy. Holden considered himself a natural at boxing because he had to protect himself from his brother. Tim taught his younger brother new wrestling holds, and Holden developed his skill as a boxer from the instructors at the academy.
After graduating from Enid High School in 1958, Holden attended Oklahoma State University for a year, where he was enrolled in ROTC. However, a trip to Houston, Texas, resulted in meeting an instructor at the Texas Academy of Art.
"They taught me how to stay alive in commercial art," Holden explained. "Commercial art is completely different now."
Everything artistic was completed by hand without the help from computers and other technology. Holden subsequently graduated with an art degree, and then pursued a career in the commercial art field in Wichita, Kans.
For more information on Harold T. Holden, pick up the December issue of OKFR!