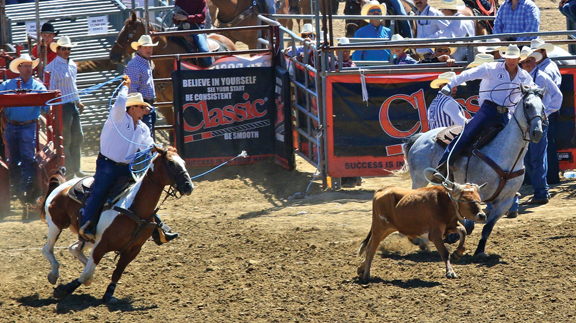 By Judy Wade
All Garrett Elmore wanted for his third birthday was a hot shot. Being a good grandmother, Mema Elmore bought him one. The next morning, he walked into the arena with his hot shot where his mother was helping his sisters practice and said, "Mom, just call me 'Hot Shot Boy.'" The nickname stuck, and he has been "Hot Shot" ever since.
The sixteen-year-old son of Kelly and Tammy Elmore of Springer, Okla., is a sophomore at Global Harvest Christian School in Ardmore, Okla.
"I like school," he commented. "We're small enough that I get lots of one-on-one and extra time with my teachers if I need it."
Elmore began rodeoing when he was three or four, competing in barrels, poles, mutton bustin' and the goat ribbon pull. Now a member of Oklahoma High School Rodeo Association, United States Team Roping Association and International Finals Rodeo Association, he concentrates on team roping, both heading and heeling, and tie-down calf roping.
Some of his most memorable wins include winning the number 12 USTRC Shootout in Guthrie, Okla., in 2015, winning the second round of the IFYA in Shawnee and the second round at the High School National Finals in Gillette, Wyo., in 2016. He was also the state champion in tie-down in the Oklahoma Junior High School Rodeo Association and the All Around Cowboy in both his seventh and eighth grade years. He was the Rookie of the Year in 2016 for the Oklahoma High School Rodeo Association. This adds up to numerous saddles, a basket full of buckles, bits, spurs, breast collars and worlds of other prizes in addition to the money.
Read more in the November issue of OKFR!