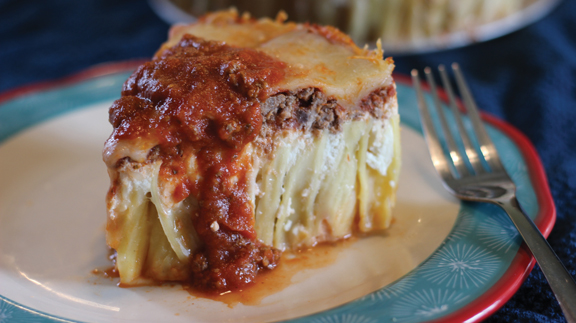 By Lacey Newlin
Time: 90 minutes
Servings: 10-12
Ingredients
1-pound Rigatoni
1 jar of your favorite pasta sauce (approximately 2.5 cups, give or take. If it's slightly more or less, just use it all)
½ cup of water
2 Tablespoons olive oil, divided
1-pound ground beef or ground pork
1 cup Parmesan cheese
1 container cottage cheese (or ricotta cheese)
1 large egg
1-1/2 to 2 cups mozzarella cheese
Instructions
Cook the Rigatoni in a large pot of salted, boiling water. Make sure you use enough water because the rigatoni sucks up a lot. Cook it about 1 minute less than the package directions so it is still hard enough to stand up. Drain the pasta and rinse under cold water.
Toss pasta with one Tablespoon of oil to prevent it from sticking. Then add the Parmesan cheese and toss until the cheese is evenly distributed. Set aside. In a large frying pan, brown the ground beef in one Tablespoon of oil. Drain away the fat once cooked. Add the jar of pasta sauce and water and bring to a boil.
Reduce heat. Cover and simmer for at least 20 minutes. The longer the sauce simmers, the better, but make sure you add more water if it all boils off. Remove from heat and let it cool for 10 minutes. Mix together the container of cottage cheese and the egg. Set aside. Preheat the oven to 400 degrees Fahrenheit.
Grease a 9-inch spring form pan. Take the cooked rigatoni and stand each piece up on its end in the pan. Continue until the whole pan is tightly packed. Pour the cottage cheese mixture over the rigatoni and spread evenly over all of the noodles.
Pour the meat mixture over top and spread evenly over the noodles. Use your finger to poke the meat and cheese mixture down into the noodles. The more patience you have with this step, the better it will be. Bake for 15 minutes at 400 degrees Fahrenheit. Remove from the oven and top with the mozzarella cheese. Bake for another 15 minutes at 400 degrees Fahrenheit.
Let stand for 10 minutes then run a knife around the edge of the pan to help remove the spring form pan.