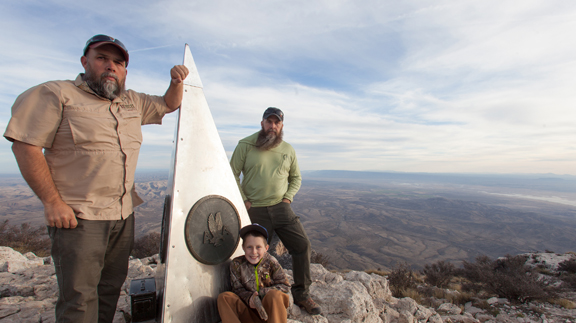 By Russell Graves
By most standards, the Guadalupe Mountain range doesn't fit the conventional idea of a mountainous country.  Instead of a collection of individual mountains rising from the surrounding plains, the mountain range is a collection of peaks that rise from an immense and ancient reef that was once part of a prehistoric Pangeatic sea.  From Texas the immense ridge runs north into New Mexico.  When the ridge plays out in Texas, mountain peaks rise from the stone comprised of fossilized algae and fungi.
Approaching the range from the south, travelers see the same cragged peaks jutting out as they have for centuries.  The state's signature peak, El Capitan, stands like a sentinel over the West Texas desert while behind it, Guadalupe Peak rises to the highest point in the state.
Like any good story, a good adventure tale is made of three acts.  This one is no different.
On a warm March morning, my brother Bubba and I, along with my 11-year-old son, Ryan, arrive at the Guadalupe Mountain National Park.  For the past three days, we've been planning and smartly packing for the adventure.  I've done the hike before but never an overnight stay.  Day trips up to the peak are one thing, but to spend the night is quite another.  Therefore, we've done our best to pack the necessary gear to make the ascent safe and comfortable.
Learn more in the December issue of OKFR!