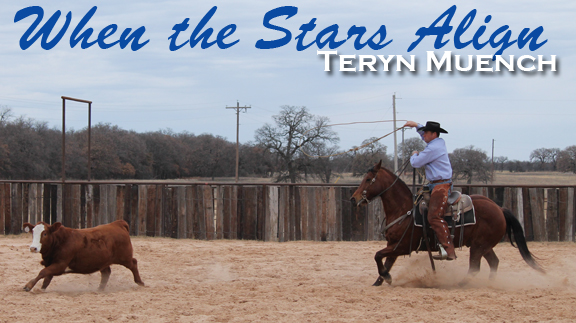 When the Stars Align
By Laci Jones
A friend of Teryn Muench's once said, "It takes 10 years to get where you want to go in the horse training business." At 33 years old, Muench gets closer to where he wants to be each year, but he recognized at an early age that training horses is a lifelong journey
"Since I was about four years old, I knew what I wanted to do," Muench explained.
The Oklahoma horse trainer was born in Victoria, Texas, in 1983. His mother worked a variety of jobs, but she is now a licensed professional counselor. His father worked for Southwestern Bell, and he was transferred to Marfa, Texas, when Muench was six years old.
The family later purchased land 30 miles away in Alpine, Texas. His dad partnered on the land and ran cattle. His weekends were filled with working cattle and riding horses. Muench also competed in rodeos, where he team roped and calf roped. He even made the state high school finals one year.
"I wasn't very fast," he explained. "I would get consistent, but I never could develop the speed that it took to be real competitive."
Muench was fascinated by other horse trainers including Ray Hunt. He learned by reading everything he could about horses. Aside from his commitment to working cattle and competing in rodeos, he enjoyed playing football as a defensive end. He made first team All-State at the small 3A school of Alpine High School. He even played in an All-Star football game in Australia when he was 18.
"I grew up watching the 'Man from Snowy River,'" Muench said. "I always wanted to go to Australia, and that was a big accomplishment."
After graduating high school in 2002, Muench attended Sul Ross State University in Alpine, Texas. He also worked for Brite Ranch near Marfa, which is one of the largest closed Hereford herds in the United States, he added.
When he turned 21, Muench wanted to make a change. To fulfill his life-long dream of becoming a horse trainer, he quit school and started training horses. He rode colts for the public and later worked for a man named Mark Chestnut in Whitesboro, Texas.
"I told myself I was going to work there for four years," he stated. "I didn't go to college; I figured four years was a good education."
To learn more about Teryn Muench, pick up the February issue of OKFR!