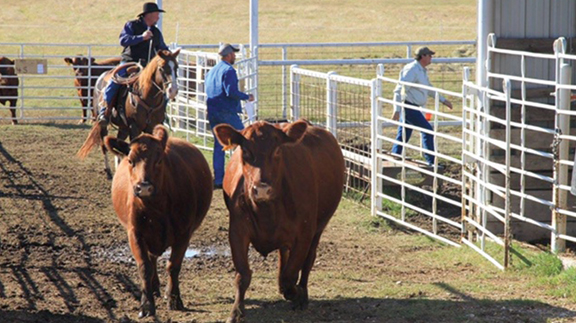 By Ralph Chain
You cannot believe what goes on at the Red Angus Sale at the Ranch. It takes us several months to get ready for our annual sale. This year it was held on October 29th.
It takes everybody who works for the Chain Ranch to get ready for our sale. The employees from Kansas come down and work together with the employees here in Oklahoma. A tent company from Oklahoma City set up a big tent at the ranch. The family gets ready to feed everyone. On sale day, we fed 270 people. If they do not come to buy, they come to eat.
We always pray for good weather. This makes the 20th sale we have had—12 in Kansas and the rest in Oklahoma. The Lord has blessed us with good weather at every sale in two decades.
Our registered females averaged a little over $2,400. Our bulls averaged approximately $3,000, and our mostly two-year-old bred commercial heifers averaged around $1,700. With today's cattle market, we thought our sale went extremely well. We are glad it is over, but we will be getting ready for our annual bull sale in March.
Also, we just finished weaning over 2,000 calves. The Lord has blessed us with good wheat pasture for these calves. We depend on our wheat pasture to run our calves on. If the wheat pasture and the weather is good, the calves can put on 150 to 200 pounds in December, January and February. But if we get a bad snow storm in March, they could lose everything they put on in a short period.
I remember one year we had a big snow storm in Kansas and the cattle drifted five miles because we used electric fences there, and the fences were covered in snow. We do not have much shelter in Barber and Harper Counties in Kansas, but in Oklahoma we do have trees where the cattle can get shelter from the storms.
To learn more about Chain Ranch, visit www.chainranch.com.