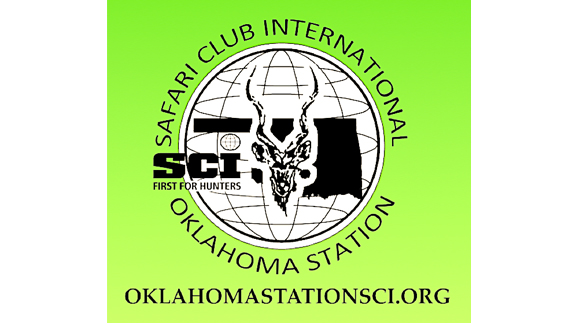 Feb. 23, 2017-The Oklahoma Station Chapter of Safari Club International (OSCSCI) will hold its 32nd annual Convention Banquet and Fundraising Auction on March 18. This year's banquet site is the Embassy Suites by Hilton in Norman, which will provide expanded seating, additional event happenings and increased outfitter and vendor space.
Banquet tickets include dinner, drinks and the opportunity to bid on more than 30 exciting hunts and fishing trips in the United States and around the world.  Some of the many hunting trips that are available include African safaris, South American birds and big game hunts, Scotland big game, Kansas pheasant hunting, Wyoming antelope, and deer hunts in Wyoming, Nebraska and Oklahoma. Fishing trips include Costa Rica and Alaska as destinations. Attendees could win rifles and pistols. Other events include a silent auction for a variety of hunting and sporting items.
OSCSCI protects the freedom of Oklahomans to hunt, and 80 percent of all funds earned from the group's fundraising efforts stay in Oklahoma.
"Oklahoma hunters have a need to protect their freedom to hunt, and attending the banquet is one way to do this," said Larry Gerads, marketing director for OSCSCI. "It is extremely important for all hunters to protect our hunting heritage. It is a battleground out there. Come join the battle by attending the OSCSCI banquet and have a great time while preserving the heritage of hunting for yourself and future generations."
Vendor space is still available, and volunteers are always welcome. Up-to-date information can be found on Facebook at Oklahoma Station Safari Club International.
Tickets for the banquet are available online at http://OklahomaStationSCI.org, by calling (580) 609-0900, or by e-mail to events@OklahomaStationSCI.org or fax to (800) 958-2983. Early-bird tickets cost $45.
SCI is a nonprofit organization dedicated to the conservation of wildlife, public education about conservation, and the protection of hunters' rights. The Oklahoma Station Chapter translates donations and proceeds from the banquet and other events into education, conservation, support of the Oklahoma Department of Wildlife Conservation, and other high-impact projects in Oklahoma and around the world.
###