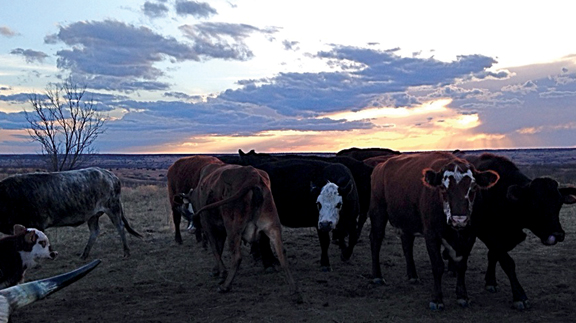 By Lanna Mills
I am often asked: How can you stand to live way out there? Don't you get bored? What if you need something? Wouldn't you rather live in town?
My answers are: I actually love living out in the country. I do not have time to get bored because there is always something to do. If I need something, I do what anyone else would do. I get in the truck and go get it, but it just takes me a little longer. I try to get everything I might need in one trip because it can be frustrating to get all the way home and realize I forgot something.
I have lived in a small town before, and I cannot imagine living in a big city. There are pros and cons of both ranch/country living and living in a town or big city. Everyone is entitled to their own opinion and most people think that being in town is more appealing. I, however, feel that being on the ranch is the best place to be.
Living on the ranch has many benefits including the peace and quiet. Other than a coyote howling, a calf bawling or an airplane flying over, there is not much noise. There is hardly any traffic, which also reduces the noise.
The view from the ranch does not compare to the view from a house in town in my opinion. I love looking out and seeing nothing but wide open space as far as the eye can see. An artist could not have painted a more beautiful landscape.
Thorny mesquites and cactus grow from the rock-hard soil. It's called "the breaks" due to the gypsum rock canyons dividing the land, on a good year running with water from a spring. The ranch is abundant with wildlife including quail, deer, wild hogs, rattlesnakes, and roadrunners to name a few.
Learn more in the latest issue of OKFR!