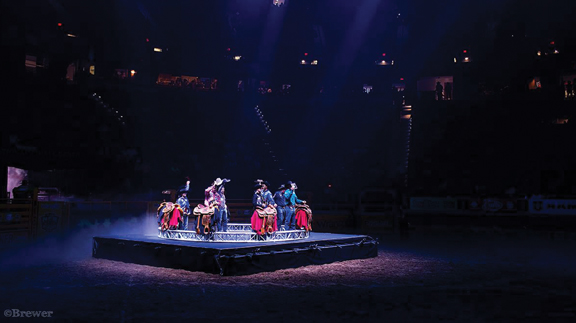 By Ddee Haynes
I am tired. As always, I had to stay up, or at least I gave it the old college try to watch 10 nights of the National Finals Rodeo, the world's richest rodeo. Since the actual performances are in Las Vegas, two hours behind Oklahoma time, it made for late nights and strong coffee the next day.
For those of you not familiar with the NFR, think of it as a world series for rodeo with 10 innings and seven events. The NFR features the PRCA (Professional Cowboys Rodeo Association) and the WPRA (Women's Professional Rodeo Association) top 15 in each event based on their earnings during the regular rodeo season. The events include bareback riding, steer wrestling, team roping, saddle bronc riding, tie-down roping, barrel racing and bull riding.
Missing from this year's lineup were some very noticeable and high profile competitors such as 23-time world champion Trevor Brazile who competes in tie-down roping and team roping; Kaycee Feild – four-time world champion bareback rider; Tuf Cooper – three-time world champion tie down roper and Will Lowe, also a three-time world champion in bareback riding. The four were not allowed to compete this year because they opted to focus on building a new pro rodeo association called Elite Rodeo Athletes (ERA). They were denied the opportunity to compete throughout 2016 because they own ERA stock.
I have to say this year's NFR was one of the most nail biting and suspenseful ever. It was heart-warming, heart breaking and breathtaking. The 105 professional cowboys and cowgirls laid it all on the line for 10 straight nights. When the dust had cleared, the results were not what were expected in several events. Competitors who had come in near the bottom of the pack and way behind in earnings were the World Champions.
Costly mistakes were made in all events. The mistakes made by the top money earners coming into the NFR allowed those cowboys and cowgirls trailing behind in earnings to grab the "day money" (money earned after each performance) for winning or placing down to sixth spot in the round. One more factor that helped move some of the National Title Winners into the No. 1 position was the average money. Average money is paid out after the tenth round and is based on all ten performance results.
To learn more about the 2016 NFR, read the February issue of OKFR!