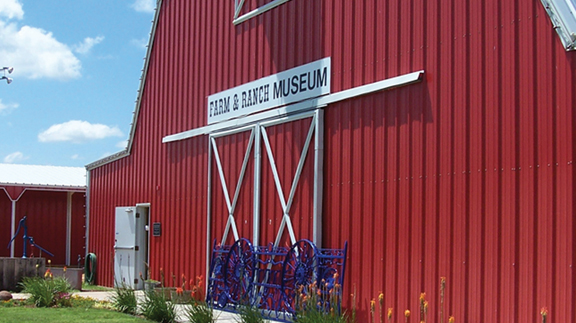 By Rhonda Shephard
The Oklahoma Farm and Ranch museum in Elk City, Okla., reflects the agricultural and ranching heritage of Oklahoma. Sponsored by the Western Oklahoma Historical Foundation, it represents the only museum statewide dedicated to farming. The idea started with Bill Grissom's dream and collection of vintage machinery.
"I saw the machinery my grandfather used rusting," Grissom explained. "I knew if something wasn't done, my grandchildren would never know or appreciate what these implements meant to the development of this state."
A $50,000 gift from the Foundation rooted Grissom's dream and the familiar red barn stands on land donated by the community. Open Monday thru Saturday 9 a.m. to 5 p.m., the museum is a volunteer project.
The facility showcases all things agricultural and ranching. The grounds include farm equipment, tractors, harvesters and plows. Ranching equipment includes dehorning tools, calf pulling rigs, wire stretchers and hundreds of patented strands of barbed wire that tamed the west. The blacksmith shop stands next to the museum. The visitor can view how blacksmiths turned iron or steel into tools, wrought iron gates, grills, furniture, agricultural equipment and repairs in an age when throw-away did not exist.
Elk City's history included two staples: broom corn and cotton. Broom corn boomed in the early teens of the city, with more than 244 train cars pulling away from Elk City in 1912. Elk City was considered the Broom Corn Capital of the World. By the 1920's broom corn became a bust. The museum houses a broom corn baler. Cotton is another cash crop seeing boom and bust in the Elk City area. One of the popular gift shop souvenirs is the replica cotton bags.
Read more in the April issue of OKFR!