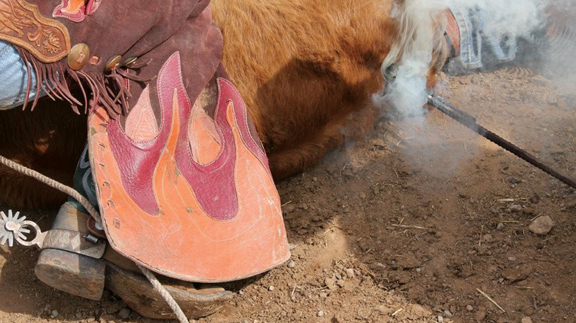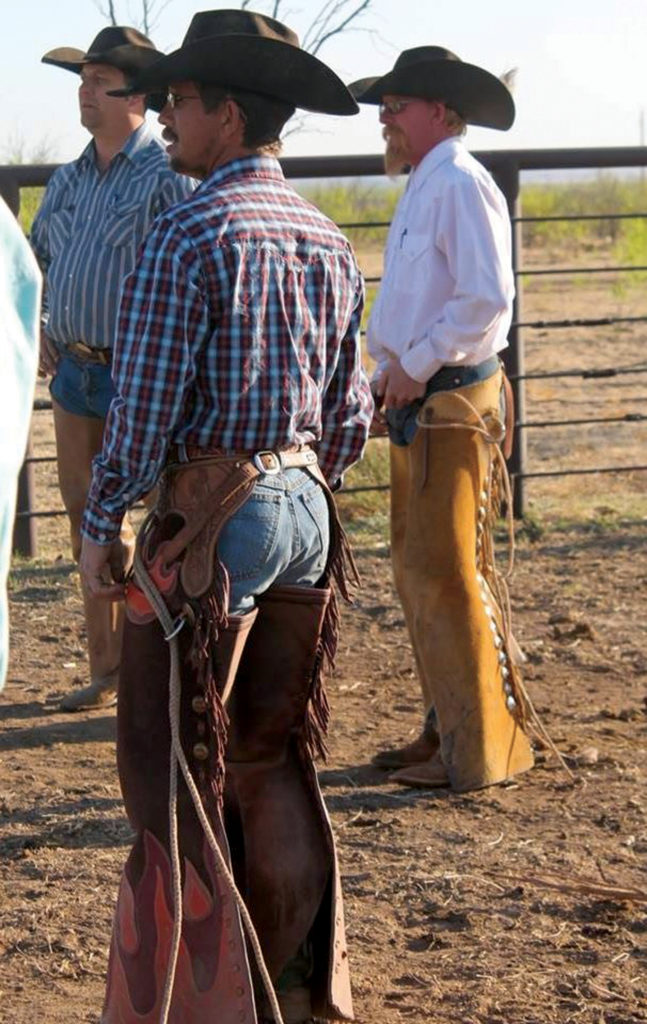 By Lanna Mills
Isn't it funny that cowboys work hard for little pay, yet western wear is quite expensive? When it comes to clothing, cowboys are very particular. They know what they like and with good reason. Each article of a cowboy's attire—hat, shirt, jeans, belt, boots, spurs and leggings—serves an important purpose.
A cowboy's hat protects him from the sun, helps keep him warm in the winter, keeps the rain off his head, and when he is in the pasture and too far away to speak to another cowboy, can use his hat to signal another. You can tell a lot about someone by looking at their hat, like what part of the country they are from.
Local cowboys wear big brim hats with the sides turned up, whereas northern buckaroos wear short, flat brim hats. When it comes to hats, cowboys are choosy. They have a certain brand they like best (only Resistol will do for my cowboy), they want it shaped in an exact way and it must fit snug. They cannot have it flying off while in pursuit of a runaway cow. Cowboy hats have character. A sweat ring around the crown, dirt and specks of cow poop, nicks from tree limbs, and the longer they are worn the more unique they become. In tradition, a cowboy removes his hat when entering a room,  meeting a lady or sitting down to dinner. When not being worn, a hat is to be hung or placed on its crown.
A cowboy's shirt is most often long-sleeve and a pearl snap or button down. It keeps the sun off and keeps him cool in the summer. Jeans must fit comfortably for the long hours spent in the saddle. Most cowboys prefer either Cinch, Wrangler or Levi's brand of jeans. Jeans are held in place with a belt showcasing a buckle that he's won or had custom made. A scabber on the belt hold the cowboy's knife for quick and easy access, which comes in handy when cutting calves.
A cowboy's boots and spurs are one of the most recognizable pieces of cowboy attire. The boots have tall tops and are made of thick quality leather. They protect against thorns, cactus, and brush. They fit perfectly in the stirrup. Boots are handmade and show the cowboy's style with their fancy tops.
Pick up the March issue to learn more.
Save