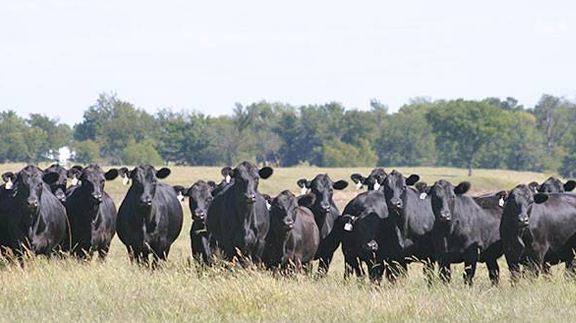 April 27, 2017- On Saturday, May 13, 2017, A Bar Ranch will be selling 1,000 head of quality young pairs, young cows and bred heifers. The sale will take place at 12 p.m. at the ranch in Claremore, Okla. Many from reputation ranch's in tight calving periods, it is a unique opportunity to buy this quality in volume direct off the ranch.
A Bar Ranches evolved from a ranching dream that began with a partnership cow in 1959. Owned by Mike and Martha Armitage, both from cattle and ranching families, the ranch maintains a cow herd of more than 4,000 head and breeds more than 500 replacement heifers each year.
The headquarters ranch, located at Claremore, Oklahoma, was the original Cherokee Indian Allotment of Frank and Dora Rucker, established in the early 1880s. This eastern Rogers County ranch exceeded 20,000 acres and operated with the historic Open A Brand and employed a young Will Rogers as a ranch hand.
The nucleus of our ranching operation consists of four ranches owned in Rogers, Mayes and Craig counties. The headquarters at Claremore is utilized for maintaining heifers through their first year of production and the broodmare band along with hosting two bred female sales annually.
The A Bar Ranch cowherd utilizing these ranches have been developed over the past 25 years as a closed herd. Bred heifers added each year must conceive the first 30 days of expose and meet our rigid selection criteria. Bred heifers from our base cowherd are offered only through the ranch auctions.
The cowherd was built from purebred Hereford cows mated to Brahman bulls producing F1's. The bulk of today's cowherd are sired by Angus bulls and calves are 1/8 to 1/32 Brahman with 7/8 to 31/32 Angus. Developed to fit the environment of eastern Oklahoma and end product to fit the beef industry demands.
For additional information, call Mike Armitage at 918-625-5689 or visit www.abarranch.com.
###