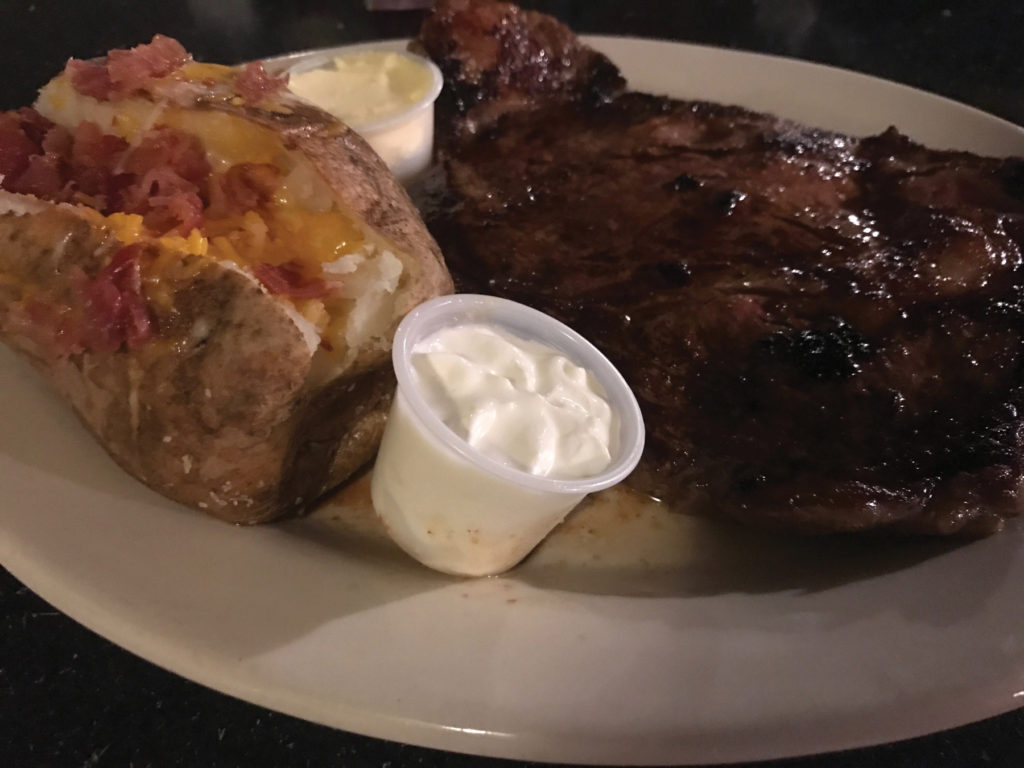 By Laci Jones
One of my favorite meals is a thick, juicy steak with a loaded baked potato. Click's Steakhouse in Pawnee, Okla., is the perfect steakhouse to satisfy this craving.
Clifton "Click" Nelson opened Click's Steakhouse, originally named Click's Alamo Club, in 1962. When the doors first opened, customers knocked on the door and were analyzed through the two-way mirror, according to the Click's Steakhouse website. Women were not allowed in the club for the first few years.
Nelson was a cook who was known for his delicious steaks and his "colorful language." Customers who ordered fries for dinner would get lectured by the club owner. However, those who knew him said he was a "good guy at heart," according to the Click's Steakhouse website.
The restaurant was sold in 1982 to the Bob Sanders family. Sanders sold the restaurant in 1995 to Roger Smith, who owned the restaurant until 2008. Today, the steakhouse is owned by Chad and Cindy Bearden. The standards of the steakhouse have not changed despite the multiple owners. Throughout the years, the restaurant has been renovated and new options have been added to the menu.
I made the trip to Click's Steakhouse last month. The restaurant is located on the main strip through Pawnee, Okla. The steakhouse has a rustic, relaxed ambiance, which was refreshing. Upon entering the restaurant, I first noticed the beautiful deer antler chandelier. The restaurant had wood floors, tin ceiling and western memorabilia along the walls. The walls were painted a deep red, giving the area a cozy environment.
My date and I ordered one of our favorite cuts of beef, the rib eye. The rib eye is a 16-ounce cut of meat that the steakhouse ages for 21 days to insure tenderness. The menu said the seasoning is the same recipe used by Nelson.
Learn more in the April issue of OKFR!
Save