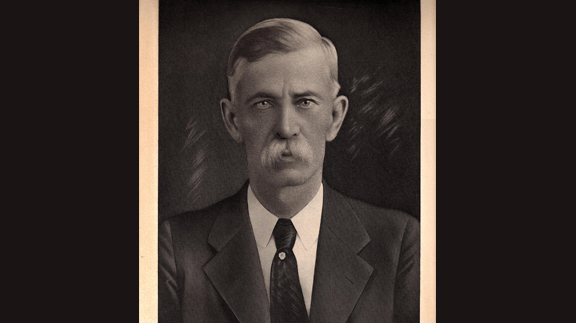 Josiah Hamilton "Foot" Dillard

By Judy Wade
Josiah Hamilton Dillard came to Indian Territory at one year old, and during the next decades built a ranching dynasty well known throughout the state of Oklahoma.
He was born Sept. 14, 1860, in Carrollton, Miss., one of 10 children of Hamilton Josiah Dillard and Elizabeth Leflore Dillard. A half-Choctaw, his father moved his family to the Choctaw Nation in eastern Indian Territory near what is now Fort Towson, Okla., in 1861 to join other Choctaws moved there by the Federal Government and to assure his family's safety from the perils of the Civil War.
Dillard's early education was in a one-room school before attending the Academy at Old Spencer ten miles north of Fort Towson until age 19. Dillard acquired the nickname "Foot" sometime in his youth.
His youngest son, Jerry, said he could only surmise that "Josiah Hamilton was too difficult for the Choctaws to pronounce, and knowing my grandfather had very large feet, I would guess that Dad did, too."
When he was 20, Dillard married Victoria Bruckner and set out to make his way in life. Until 1884 he farmed successfully near Tishomingo, Okla., before relocating to what is now Carter County where he bought a farm and homesteaded an Indian allotment. He struck oil in the middle of this land west of Ardmore, Okla., and north of what was to become Highway 70, and the city of Dillard was born and named for him. Dillard eventually sold the surface rights in that area, but kept the mineral rights, investing his money.
Read more in the April issue of OKFR!
Save