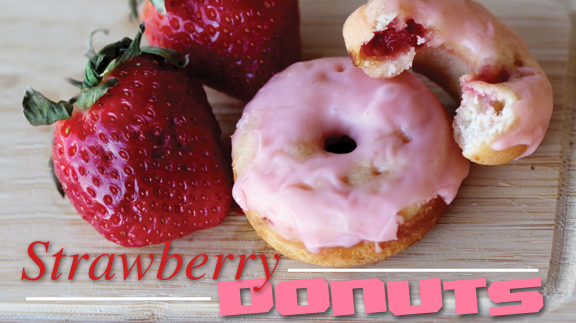 By Lacey Newlin
Donuts: one of my favorite food groups. I chose this recipe because I love sweets and I thought it could be a neat Easter morning tradition. These strawberry donuts are easy to make and perfect for a large group of people, especially children. They are also a slightly healthier alternative to fried donuts, as these are baked and are filled with fresh fruit. It's a sneaky way to incorporate a little bit of fruit to any balanced breakfast. And if you gave up sweets for Lent, taking a bite of these sweet beauties will be the perfect way to start Easter.
Total Time: 28 mins
Serves: 12-24 donuts
Ingredients
2 cups all-purpose flour
1/2 cup sugar plus 1 tablespoon sugar, divided
1 1/2 teaspoons baking powder
1/2 teaspoon salt
3/4 cup buttermilk
2 large eggs
1/4 cup honey
2 tablespoons butter
1 tablespoon vanilla extract
1 1/2 cups strawberries, diced and divided
1 cup confectioner's sugar
1 teaspoon strawberry extract (optional)
Directions
Preheat oven to 425 degrees Fahrenheit and lightly coat a donut pan with cooking spray. To make the glaze, combine 1/2 cup diced strawberries and 2 tablespoons sugar. Stir and mash with fork, letting sit at room temperature until strawberry juice is produced. Add 2 to 3 tablespoons of this strawberry juice mixture to confectioner's sugar and mix well. Taste the glaze and add strawberry extract if you want to amp up the strawberry flavor. If glaze seems too runny or thick, add a little more strawberry juice or sugar. Set aside.
For the donuts, combine flour, 1/2 cups sugar, baking powder and salt in a bowl and whisk until combined. In another bowl, combine buttermilk, eggs, honey, butter and vanilla stirring well with a whisk. With a rubber spatula, slowly add wet ingredients into dry ingredients stirring until mixture is just combined. Add 1 cup strawberries and slowly mix in until just combined.
Pipe mixture into donuts pan, filling 2/3 the way full. I used a pastry bag with an open tip to get clean, uniform circles. Bake for 8 minutes or until a toothpick is inserted and comes out clean. Make sure you do not overbake them or they will become hard. Let cool on a wire rack for 5 minutes, and then dip in glaze and return to wire rack. Dunk donuts in the glaze and put them back on the rack for the glaze to set up.