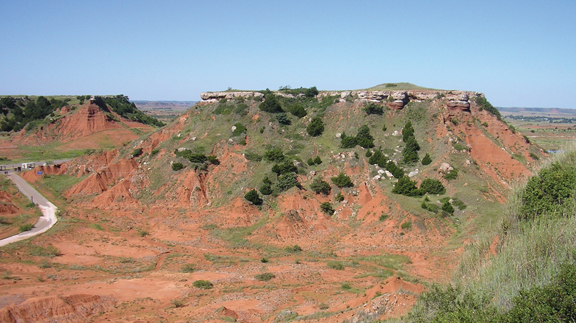 By Laci Jones
Gloss Mountain State Park, located north of Fairview, Okla., was named after the chain of mountains across Major County. The mountains are flat top mesas capped with gypsum rock, said Mark Stubsten, president of the Gloss Mountain Conservancy, Inc.
"We want people to come and enjoy the park because we have tried to maintain it in a native state," Stubsten explained. "We don't do any mowing as the state wanted the park left in general nature."
The area of the state park was once known as a hunting ground for the Apache, Kiowa and Comanche Indians. The area later became part of more than six million acres allocated to the Cherokee Nation by the U.S. Government in 1835. Eight years later, Daniel Boone's son, Nathan, explored the area, followed by Thomas James in 1871.
James described the mesas as "shining mountains," but the term "glass mountains" was later used on a map. "Shining mountains" or "glass mountains" were used to describe the sparkling selenite crystals on the mesas. Selenite is also known as isinglass, which is reflected in the light. It was not until 1875 when "gloss mountains" were printed. It was a printing error, but the name stuck. Visitors can also take "souvenir selenite" with them. The selenite can be found in two baskets alongside the trails.
The Cherokee Outlet Run took place in 1893, bringing many white pioneers to the area. The pioneers used the cedar trees from range and mesa areas for roof trusses in building their sod homes. The homesteaders farmed and built communities surrounding the Gloss Mountains. Outlaws including Dick Yeager took refuge in the mesas.
More than 60 years later, Major County was likely the only county in Oklahoma that did not have a state facility, according to Stubsten. The land for the state park was purchased in 1977 by the Oklahoma Department of Tourism and Recreation for the purpose of establishing a state park.
Read more about Gloss Mountain State Park in the April issue of OKFR!