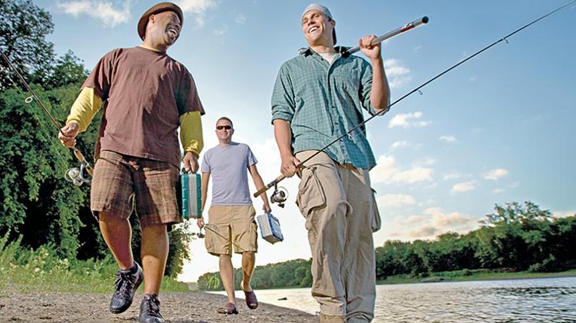 May 31, 2017- Oklahomans looking for enjoyable times with the family this summer may want to give fishing a try. And a great time for that will be this weekend, June 3-4, during Oklahoma's Free Fishing Days, which allow people to fish without state fishing licenses or permits.
"Free Fishing Days gives anyone who isn't familiar with fishing a chance to just 'test the waters' and see if they would enjoy the sport," said Ken Cunningham, assistant chief of fisheries for the Wildlife Department. "We are confident they will have a great time."
Many urban areas across the state offer angling opportunities through the Oklahoma Department of Wildlife Conservation's Close to Home Fishing program, which provides quality fishing opportunities without a long drive from home. Anglers also have access to public lakes, rivers, streams and ponds across the state. People who just don't know where to start can turn to the "Where to Fish" map found in the Wildlife Department's Oklahoma Hunting & Fishing Regulations Guide, available online at wildlifedepartment.com or in print wherever fishing licenses are sold.
Participants in Free Fishing Days should note that certain city permits may still apply to specific fishing areas this weekend. Also, all of Lake Texoma is open for free fishing on June 3, but free fishing will only apply to the Oklahoma portion of the lake June 4. Anglers must abide by all Texas fishing license and permit requirements when fishing the Texas portion of Lake Texoma on June 4.
Oklahoma was the first state in the nation to offer Free Fishing Days more than three decades ago, a courtesy that has since been followed by dozens of other states that have established similar days.
Even though the state fishing license is not required during Free Fishing Days, all anglers must still abide by the other fishing regulations such as species daily bag limits and size restrictions.
Anglers who would like information on where the fishing might be hot can register to receive the Wildlife Department's free weekly Oklahoma Fishing Report. Compiled by Department personnel and independent reporters, the report reveals where good fishing can be found, when the fish are biting and what baits they are hitting the most. Anglers can have the fishing report e-mailed to them by subscribing at wildlifedepartment.com/fishing/fishingreport.
###