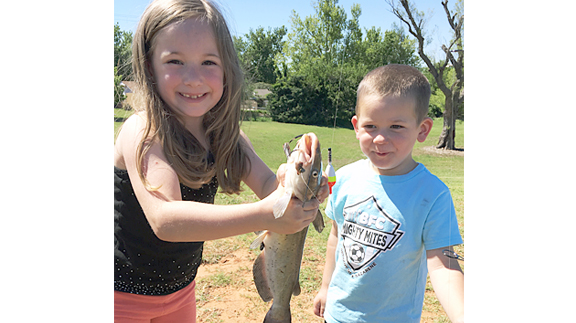 May 16, 2017-Whether you are young or old, it's always a good time to start fishing! It doesn't matter if you are a fishing novice or an experienced angler looking to introduce someone to the sport, the upcoming Free Family Fishing Clinics may be right up your alley.
These clinics are offered during spring and summer months by the Oklahoma Department of Wildlife Conservation, along with "Hooked on Fishing" classes for kids offered by the City of Oklahoma City Parks and Recreation Department and several supporting organizations.
Classes will cover the basics of fishing for beginning anglers including skills like fish identification, knot tying, equipment and more.
"What a great opportunity to try out fishing for the first time. And the great thing about it is participants don't need to worry about bringing any fishing gear or bait because all of that is provided," said Daniel Griffith, Aquatic Resources Education Program coordinator for the Wildlife Department.
Rods and reels, tackle and bait are available for all participants. A fishing license is not required of participants while the clinics are being conducted. The Wildlife Department will conduct seven Family Fishing Clinics from now through July at the Arcadia Conservation Education Area in Edmond and 11 at the Zebco Casting Pond (south side of the Oklahoma Aquarium) in Jenks. Scheduled during the evening, these clinics are open to everyone in the family, as long as an adult is present.
"Hooked on Fishing" clinics will be offered seven more times through July 22 at various sites across Oklahoma City. These classes are held Saturday mornings for youths ages 5-15, who must be accompanied by an adult. Oklahoma City fisheries staff members and Wildlife Department volunteers teach these classes at sites that are in the Wildlife Department's "Close to Home Fishing" program.
Registration is required, and early registration is encouraged as the class sizes are limited. A list of all clinics and registration links can be found on the Aquatic Resources Education Program Clinics Schedule page at www.wildlifedepartment.com.
###