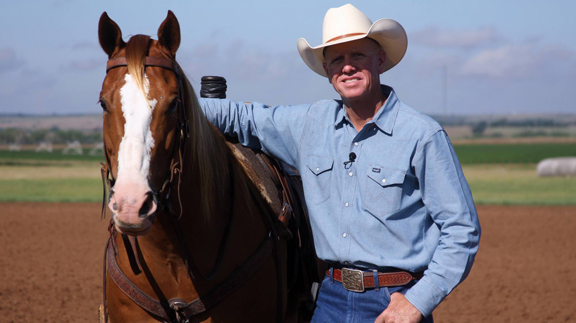 By Ddee Haynes

Close your eyes and picture a tall, slim cowboy with kind eyes, a wide smile, strong weathered hands, a quiet yet firm mannerism and a worn out straw hat on his head. You have just met Phil Haugen. Haugen, a native of northwest North Dakota, now resides in Weatherford, Okla., with his beautiful wife and partner Bridget. He and Bridget have one daughter Hannah, 23 and one son, Wade, 19.
Haugen grew up knowing the value of a well-trained horse and the importance of creating a relationship with that horse based on trust and respect, from both the rider and the horse.
Having ridden/trained more than 2,000 horses and competed in 1,000 plus rodeos during the course of his rodeo career, Haugen qualified for both the Badlands Circuit Finals and the Professional Rodeo Cowboys Association Prairie Circuit Finals.
During his rodeo career Haugen competed in team roping, calf roping and saddle bronc. In 1989 Haugen was awarded the coveted Linderman Award. The Linderman Award, created in 1966 by Rodeo News editor George Williams, is a memorial reward that is presented yearly to the leading cowboy with minimum earnings of $1,000 in three events; rough stock and timed events must both be represented.
Through his experience, Haugen has developed a unique training style based on his experiences in and out of the competition arena. His training program focuses on the horse's thinking side of the brain and the reaction side of the brain, thus Haugen's saying "When you train a horse to think, its body will follow."
Read the May issue to learn more!