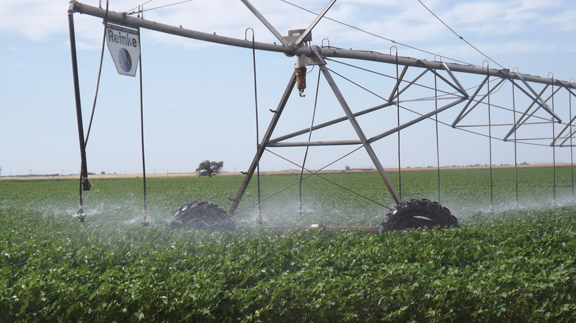 By Everett Brazil, III
Altus is in the heart of Southwest Oklahoma cotton production. Receiving irrigation from Lake Altus-Lugert to the north, much water flows through canals to irrigate the many fields. But in 2016, area producers lost a lot of yield, not due to drought, but through Bacterial blight, and that year, conditions were ripe for a breakout.
"We definitely had yield loss in 2016, and all of the growers that we're working with have a pretty clear understanding in choosing a (resistant) variety in 2017, maybe even more than traits," said Shane Osborne, crop specialist-agronomist, Western Equipment, Altus. "You'll never realize your yield, not in a bad blight year."
Bacterial blight is a bacterial disease in cotton plants, caused by the pathogen "Xanthomonas citri malvacearum." Other names for the disease include Angular Leaf Spot and Black Arm due to symptoms on various parts of the plant. The disease can by identified by scouting within the field on leaves as well as bolls.
"Typically, when you start to see the symptoms on the backside of the leaf, you will see these angular spots," said Randy Boman, director of the Oklahoma State University Southwest Research and Extension Center, Altus, the leading cotton research center in the state. "It gets on the boll, too, and when it gets on the boll, it starts out as a 'waxy' spot, and starts digesting and breaching the boll wall. It begins to digest even the inside of the boll, and discolor the lint, and later can trigger boll rot."
The plant eventually begins to shed infected leaves, which is another symptom.
"You have this necrotic tissue that becomes sensitive; they get ruffled by the wind," Boman said. "These leaves get so damaged, they fall off; they defoliate because of the damage. This damage can keep on going on new leaves or on bolls."
To learn more, read the June issue of OKFR!