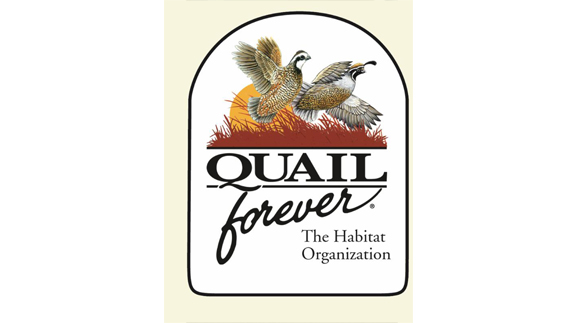 June 7, 2017- The inaugural banquet fund-raiser for the Wichita Mountains Chapter of Quail Forever will begin at 6 p.m. this Saturday, June 10, at the Stephens County Fairgrounds Expo Building in Duncan.
Anyone who wants to support conservation efforts for upland game wildlife and habitat in the southwestern parts of the state is invited to attend, said Laura McIver, Oklahoma and Texas regional representative for Pheasants Forever/Quail Forever.
"Besides having a great time and raising funds for a great cause, these events serve as a way of connecting the local members, our partners and the communities who care about wildlife conservation and what's being done about the issues facing them locally, regionally and nationally," she said.
QF is dedicated to the conservation of quail, pheasants and other wildlife through habitat improvements, public awareness, education and land management policies and programs. QF's unique fund-raising model allows local chapters 100 percent control over the funds raised locally, which lets communities see the results in their own area.
"When you support Quail Forever, you know your money is going to go to work for you and for future generations to enjoy the same traditions that you cherish yourself – whether it's for hunting, a better quality of life or for pure enjoyment.
"In addition to the habitat work our chapters do, they are also extensively involved in helping to introduce our younger generations to the outdoors, conservation values and the various activities associated with the traditions that so many of us grew up with that are being lost in today's world of technology."
Quail Forever with its founding sister organization, Pheasants Forever, is among the most efficient 501(C)(3) organizations in the nation. Funds raised go straight into upland game habitat work that also helps improve soil, water and other important wildlife and plant species including monarch butterflies and other pollinators.
Oklahoma now has about a dozen QF chapters, and each of those will hold fund-raisers throughout the year.
Membership tickets for the Wichita Mountains Chapter banquet are $55; spouse tickets are $20; and youth tickets are $15. For tickets, go to https://pheasantsforeverevents.org/event/2802. For more information on this event, call Will Field at (580) 583-2215 or Tony Johnson at (580) 699-9792 or e-mail info@wichitamountainsquailforever.org.
###