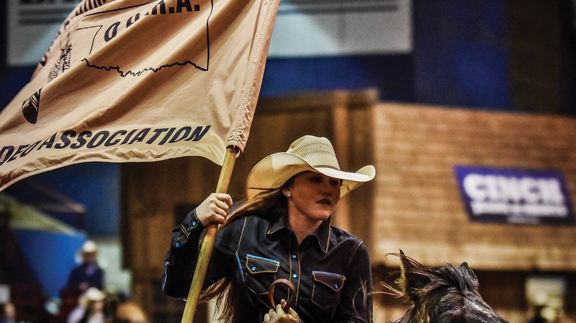 By Ddee Haynes
April 28-29, 2017 marked the Annual Border Bash held at the Legendary "Lazy E" Arena located in Guthrie, Okla. The Lazy E arena is centrally located just south of Guthrie, Okla., and northeast of Oklahoma City. The "E" opened its doors in December 1984 just in time to host the season's National Finals Steer Roping, coinciding that year with the National Finals Rodeo, which at the time was held in downtown Oklahoma City.
The original owner, E.K. Gaylord II, sold the property in 2005 to a partnership from Nevada. In October 2013, the McKinney family from Midland, Texas, purchased the Lazy E. The McKinney family recognized the Lazy E's place in rodeo and Oklahoma lore and has been committed to maintaining and improving the world's premier facility. The Lazy E, known as home to many well-known professional cowboys and cowgirls, adds an extra touch of excitement to the Border Bash contestants when they pulled through the massive gates for the first time.
The Border Bash, which started two years ago, is just what the name implies, a bash between two states and four teams. Over a two-day period, two joint rodeos were held simultaneously in three arenas.
This event pits the Oklahoma High School Rodeo Association versus the Kansas High School Rodeo Association and the Oklahoma Junior High School Rodeo Association versus the Kansas Junior High School Rodeo Association. The event was also open to any high school or junior high member of any other state association. This year several Texas cowboys and cowgirls showed up ready to compete.
Pick up the June issue to learn more!