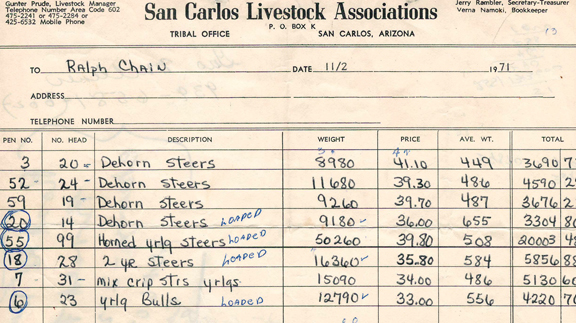 By Ralph Chain
I have seen a lot of change in my lifetime. One of the most historical changes I guess would be concerning the San Carlos Indian Reservation in central Arizona. The reservation covers approximately 1,800,000 acres in the White Mountains of Arizona.
For over 10 years we bought cattle from the San Carlos Indians on this reservation. At one time the reservation had a herd of over 14,000 Hereford cows. The cattle herd was managed by Gunter Prude for over 25 years. Gunter was an outstanding cattleman from Portales, N.M., and did a fantastic job of managing the huge reservation.
The reservation was divided up into four divisions: The Point of Pins, The I.D. Herd (where they raised their registered bulls for commercial cows), Tonto, and Slaughter Mountain. The reservation was so large and so rugged that their fall roundup started in June, going from the north end of the reservation and selecting the cattle to be sold in November. It would take them this long to gather the cattle—five months.
They ran chuck wagons and large remuda saddle horse herds. We would buy the cattle in the fall and usually send them to Oklahoma or Kansas to wheat pasture or directly to a feedyard. One year I remember buying 1,200 cutting bulls that the Indians had never castrated.
The maverick steers, those that were five to seven years old and had never seen a horse or human except maybe once in their lifetime, had to be trapped at waterholes in order to be caught. It was interesting how these waterhole traps were made. Two swinging gates made from sharp, forked poles just large enough for cattle to squeeze through were constructed. Once inside the trap, they were able to drink, but unable to get out because of the funnel gates with the sharp, pointed ends.
Pick up the June issue to learn more!