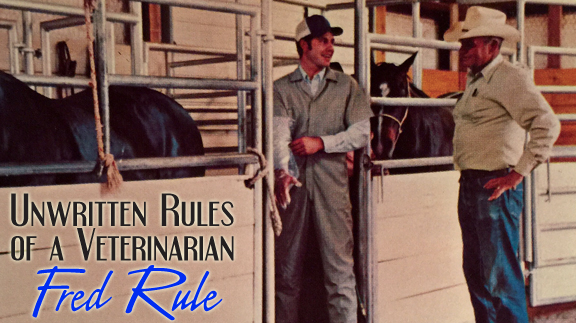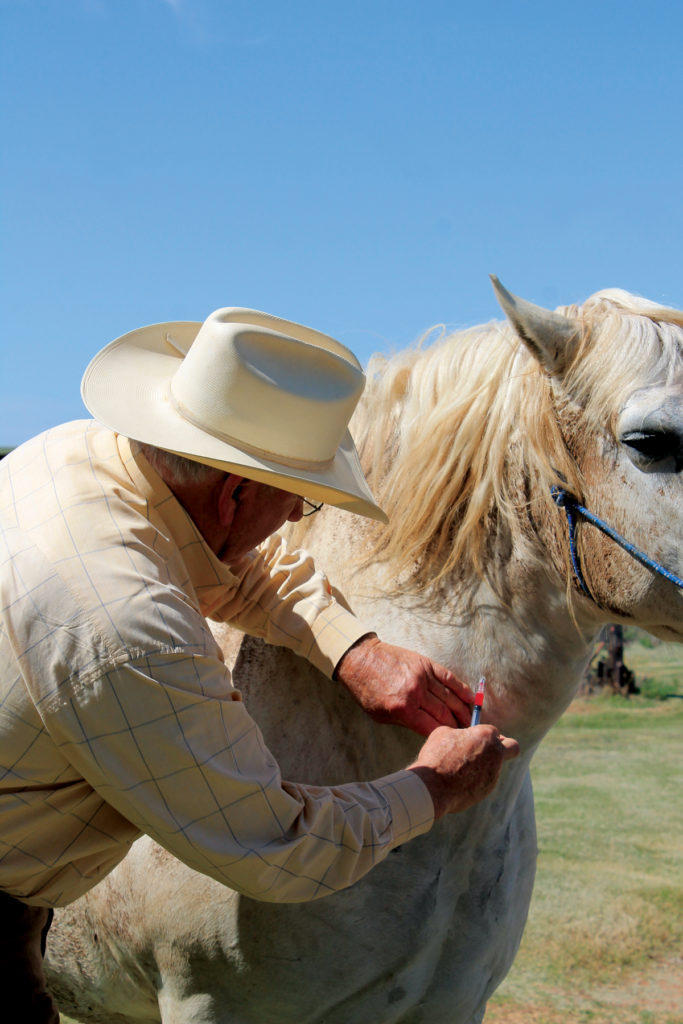 Unwritten Rules of a Veterinarian
By Laci Jones
The phone rings. When Fred Rule, DVM, of Elk City, Okla., answered, the veterinarian of more than 50 years sprung into work-mode. The rancher on the opposite end of the phone had a horse with colic. They began talking about symptoms and scheduling future visits. The veterinarian joked, "I don't even buy green bananas. I don't plan that far ahead."
The spontaneous veterinarian was born in Kansas on Dec. 29, 1939. When he was five years old, the Rule family moved 100 miles west to Ramona, Kan., with a population of 400 people. His father worked in the "implement business" for a John Deere Dealership while his mother stayed home to take care of their five children—Judy, Fred, Janet, Jim and Kim.
An ornery boy, Rule said he always carried a knife and matches. He got a "whooping" on the first day of school in Ramona because he carved his name in the desk and started a fire in the boy's bathroom, he laughed.
Shortly after, they moved 14 miles to a larger town called Herington, Kan. It was an agricultural- and railroad-based community of 3,000 people, he added. Rule was a smart child, but he never took notes. He was also a gifted athlete particularly in football. After graduating high school, the young athlete enrolled in Kansas State University on a football scholarship. There, the tight end had a "few rude awakenings."
"When I got up there, I found out that there were a lot of guys who were very fast and very big," the former football player recalled.
An injury to his left knee sidelined the young athlete, and he focused on earning a bachelor's degree. The KSU alumnus said "for some reason" he decided to become a veterinarian when he was in eighth grade. Although Rule was raised in town, he was surrounded by farming. It is not that he disliked farming, but he said he always wanted to be a cowboy and work with livestock.
"I always said being a veterinarian was my vocation, but a cowboy is my avocation," Rule said. "Fortunately, the two have mixed well over the years."
Rule went to KSU with a former high school classmate named Jack Webb. Webb's father raised quality rodeo horses, which peaked Rule's interest saying, "That's how we got in the rodeo business."
However, his rodeo days were put on hold while he was in veterinary school at KSU. Kansas State University's Veterinary School was among the elite in the United States at the time. During his six years in veterinary school, the student was exposed to hands-on learning.
"Kansas State was a very unusual school," Rule began. "At that time, there was not a veterinarian in town in private practice. It was an unwritten law that they didn't do that."
The college provided veterinary service to all the surrounding farms and ranches. This allowed Rule and other veterinary students to practice before entering the field.
"When we got out of vet school, we could go to a private practice and make them money because we knew how to do it," he added. "We didn't need [established veterinarians] to show us how to do a lot of things. We didn't know how to do everything by a long way, but we could do ordinary stuff."
After receiving his DVM in 1964, the graduate moved to Holdenville, Okla. Rule said Oklahoma was known for their high-quality horses at the time, which is what he wanted to specialize in. He worked under established veterinarian Lewis Styles at his mixed-practice.
After he received his veterinary degree, Rule decided to get back in the rodeo business. He purchased his Pro Rodeo Cowboy Association card in 1966, where he tried his hand as a team roper and steer wrestler. The rodeo cowboy said he mostly "contributed to the pot."
"I'd win something every now and then," he laughed. "I truly enjoyed it though."
Meanwhile, he continued to work under Styles, but there wasn't enough work in eastern Oklahoma to satisfy the young veterinarian. Rule moved to Frederick, Okla., a few months later to work with Joe Flanigan, DVM, where he found himself in a similar situation.
At the same time, one of his former KSU classmates, Garland Hinkle, was working in Elk City, Okla., in a large practice owned by Bill Lockridge. When Lockridge decided to move to the bluegrass state, Hinkle and another veterinarian took over the practice.
Read the August issue to learn more!
Save
Save