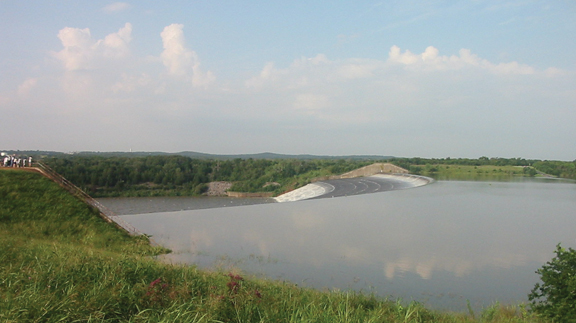 By Laci Jones
Warm breeze, cool water, flip flops and sunscreen. Summertime has officially arrived in Oklahoma. As Oklahoma's second largest lake with more than 89,000 acres of water, Lake Texoma is popular destination to enjoy the summer season and unwind, said Lake Texoma State Park manager, Julie Roach.
"Lake Texoma State Park is a great location to connect with family and friends, disconnect with work and unplug electronics," she explained. "It's a good place to get out your fishing pole, build a campfire, make s'mores, play horseshoes, washers, or other favorite activities or just relax in your lawn chair.
While the area is popular during the summer, Roach said Lake Texoma State Park is a popular destination in early spring and late fall. The name of the state park originated from its location on the Oklahoma-Texas border near Kingston, Okla.
Lake Texoma is fed by the Red River and the Washita River, she said. Before the inception of the state park, the Denison Dam on Lake Texoma was built during World War II to control flooding from the two river sources. The dam was completed in January 1944.
The lake was initially authorized for flood control, hydropower, and water supply. Nearly 44 years after the dam was constructed, recreation was officially added as a "project purpose" of the lake.
"Since the lake is a flood control lake, it is affected by flooding and has crested the spillway a total of five times," Roach added.
Pick up the July issue to learn more!