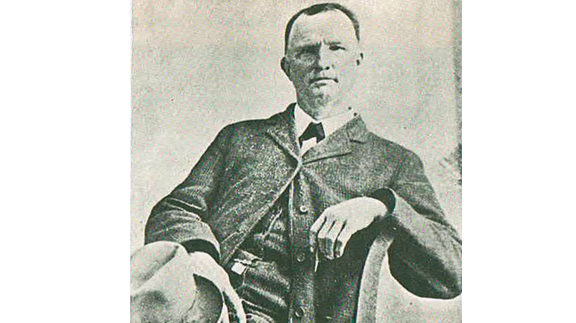 By Laci Jones
Where the rubble of a great ranch near Ponca City, Okla., remains, was once the site of America's Largest Diversified Farm. Before 101 was branded on the first steer, before audience members were captivated by the 101 Ranch Wild West Show, before silent westerns were filmed, the story begins with one Kentuckian.
The patriarch of the 101 Ranch, Colonel George Washington "G.W." Miller was born in Lincoln County, Ky. in February 1841, but some historical documents detail his birth in 1842. His father, George Miller's alcohol abuse eventually led to his divorce from Almira Fish Miller. G.W., his brother Walter Miller, and his mother Almira Fish Miller went to live with her parents on their plantation east of Crab Orchard, Ky.
"In his younger days, G.W. was raised on a small plantation," said Joe Glaser, secretary, treasurer and historian of the 101 Ranch Old Timers Association, Inc. "That is what he was familiar with."
He was raised by his maternal grandfather, John Fish and was raised with the values of the South. The young boy learned about growing crops, hunting animals and raising livestock, but he was particularly fascinated with mules, according to Michael Wallis in "Real Wild West."
When the Civil War began in 1861, Kentucky officially remained a neutral state, but many Kentuckians enlisted as a Union and Confederate. As a man of the South, G.W. likely fought for the Confederate Army, but "little is known of G.W. Miller's war record," according to Wallis.
After the Civil War concluded, the 24-year-old married his step-sister and second cousin Mary Anne "Molly" Carson in Louisville, Ky., on January 9, 1866.
"They were perfectly matched," wrote granddaughter Alma Miller England in the book 'The 101 Ranch.' "He was a rugged Kentuckian of tall and powerful frame—every inch of him pure American. She was a wholesome motherly woman, handsome, and the perfect complement of such a man. He was good natured but of a volcanic temper while she was genial and jolly."
Their marriage began with managing his grandfather Fish's Kentucky plantation. However, G.W. found it difficult to return the plantation to its former glory during Reconstruction. At the time, many displaced Southerners were heading West to start anew.
"G.W. was very disgruntled," Glaser explained. "He didn't like carpetbaggers and their slave labor was gone. There was no way to raise a crop and make a living."
With opportunity for a new beginning, G.W. sold his share of the Fish plantation. He, his pregnant wife and children—Wilkes Booth Miller, who was named by the infamous John Wilkes Booth, and Joseph Carson Miller, headed to California.
The Miller family, along with a former slave and Molly's brother, arrived via railroad in St. Louis in 1870. They ferried across the Mississippi River, loaded in a covered wagon and headed southwest, following the Arkansas and Indian Territory border. While he originally set his sights on the western horizon, he saw opportunity for a large ranch in the prairie land.
Pick up the August issue to learn more!
Next month, read the next article about the 101 Ranch.
References:
Wallis, Michael. Real Wild West
Collings, Ellsworth, Miller England, Alma. The 101 Ranch