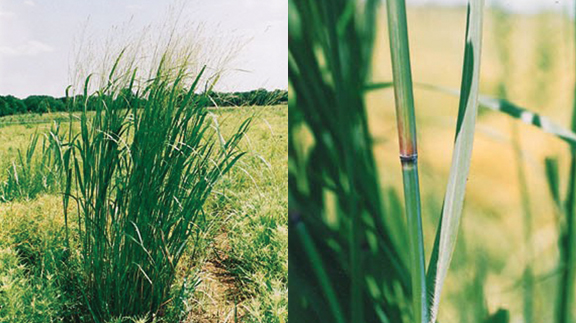 By Rob Cook
Characteristics: Switchgrass is a native, warm-season, perennial bunch grass. Mature height is about three to six feet tall. The leaves are up to 1/2-inch wide and six to 24 inches long. There is often a triangular patch of dense hairs at the leaf base. The stems are hollow and do not branch above the base of the plant. The seed head is five to 20 inches long and can be a third to half as broad as it is long. Switchgrass has robust underground runners, or rhizomes, that allow it to form colonies. It is often a distinct bluish to bluish-green color during the growing season and reddish-orange in the dormant season.
Area of Importance: Switchgrass is a common grass that occurs on various soil types across the plains of Oklahoma and Texas. It is considered one of the "big four" grasses of the prairie. It provides good grazing for livestock, especially during the early stages of its growth. Switchgrass provides good nesting cover for ground-nesting birds and good fawning cover for deer. The seeds are eaten by game and song birds. Forage value for deer is poor. Because of its robust rhizomes and deep roots, switchgrass is instrumental in stabilizing stream banks and riparian areas. It is also an important component for healthy rangeland in many upland sites.
Learn more in the latest issue of OKFR!