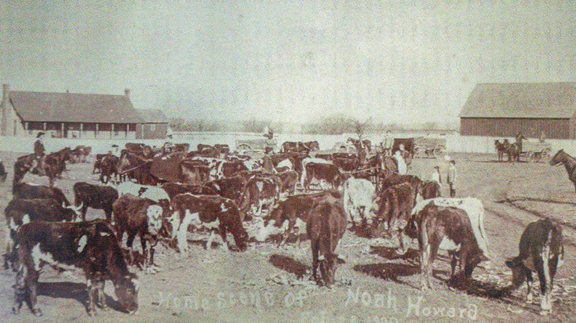 By Judy Wade
"The Ranching Corridor" is a name appropriately applied to Highway 70 as it traverses southern Jefferson County from east to west. Several large ranches lie adjacent to it. The Howard Ranch is one of them and has been in existence for almost 150 years.
Coming to Texas with his family in 1872, Noah Jenkins Howard was the first of the Howard family to cross over Red River from Montague, Texas, to the fertile valley known as Mud Creek in southern Indian Territory for his cattle operations. Born in 1859 in Johnson County, Tenn., he had a high fever as a boy that left him with one leg shorter and a slight limp.
As a young man, he leased Indian land just north of Red River. He later bought that land and moved to Cornish, Indian Territory, with his bride, Nannie Taylor. He also acquired land in the Claypool area, midway between Ringling, Okla., and Waurika, Okla. Four children were born to the couple: Wilton in 1888; Willian Isaac "Bill" in 1890; Essie in 1891; and Lester Otis in 1893.
Leslie was two when he pulled a pot of boiling coffee off the stove and onto himself, eventually causing his death on Jan. 19, 1895. This tragedy brought overwhelming grief to his mother, Nannie Taylor Howard, and she died on May 23 of the same year.
Howard moved his family back to Texas, near Spanish Fort where he married Wesley Sharrock. Of their four children, only two survived to adulthood—Vera and Silas Dewey "Pig" Howard. Wesley proved to be a worthy mother to the five surviving children, but tragedy struck again in 1904. Sixteen-year-old Wilton was cleaning his gun outside the family home when it accidently discharged. The bullet sped through the house, killing his stepmother.
Howard continued raising his five children in the home near Spanish Fort, instilling in each of them Christian teachings. Each of them was known that "their word was as good as a bond."
Howard was also known as an ecologist, as he did not allow over-cutting of trees along Red River. He was a loyal member of the Methodist Church and a director of the People's National Bank of Nocona. He was recognized at a distance by how straight he sat a horse.
Read more in the August issue of OKFR!