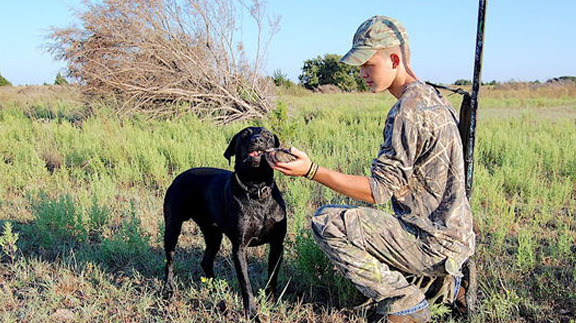 Aug. 24, 2017-One major change this year is that Oklahoma's dove season, which normally runs Sept. 1 through Oct. 31, will gain additional days from Dec. 1-29. The longer season was made possible by changes in federal guidelines to allow more hunting days.
"While that's a ways out, I have heard several optimistic comments from folks who have noticed increasing numbers of birds still around through the winter. It may not be quite the same experience as an early September hunt, but it will be a good opportunity for the sportsmen and sportswomen of Oklahoma to add a new holiday tradition."
Another addition sure to be welcomed by state hunters is the debut of the Oklahoma Land Access Program, a new effort to lease private land for public walk-in hunting, fishing and recreational use.
For complete dove season regulations, including required licenses and permits, bag limits, shooting hours and more, consult the 2017-18 Oklahoma Hunting and Fishing Regulations Guide.
Dove season has always been a great time to expose youths or to introduce novices to the hunting tradition. The weather is usually comfortable, and the dove hunting action can be intense. That's why it's always a good opportunity to take advantage of Oklahoma's Free Hunting Days, which will be Sept. 2-3 this year.
On those days, Oklahoma residents who otherwise would need a hunting license may hunt without one. Besides dove season, other game that can be hunted Sept. 2-3 are squirrels, rail, gallinule, prairie dog and coyote. All other hunting seasons are closed.
Everyone participating in Free Hunting Days is reminded that all other hunting regulations apply, including bag limits, shooting hours, shotgun plugs, hunter education requirements and other general rules that are published in the Oklahoma Hunting and Fishing Regulations Guide, which is available online at wildlifedepartment.com, in the free OK Fish & Wildlife mobile app, and in print wherever hunting and fishing licenses are sold.
#  #  #